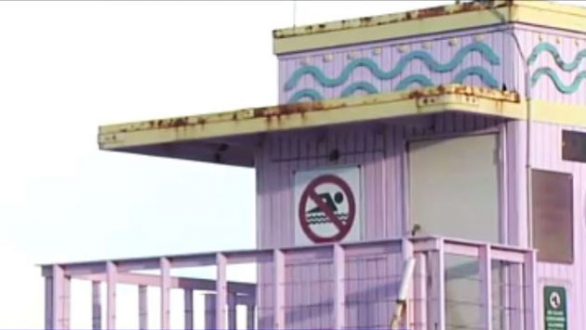 ABC News(MIAMI) -- One Florida beachgoer survived being bitten in both legs by what officials believe was a bull shark on Sunday.
Miami-Dade Fire Rescue Ocean Rescue lifeguards spotted the silhouette of a shark in the water off the shore of Haulover Beach at approximately 3:30 p.m. and worked quickly to clear the water.
"Immediately, the lifeguards alerted people in the water by blowing their whistles, and gesturing for everyone to get out of the water. Lifeguards raised flags and continued to signal people to get out of the water," public information officer for Miami-Dade Fire Rescue Erika Benitez said in a statement.
"In the process of exiting the water, a beachgoer was bitten in the lower extremities by what appeared to be a 4- to 5-foot bull shark," Benitez added.
The unidentified victim was able to safely exit the water onto the beach, where lifeguards assisted the man and assessed the gashes on both of his legs.
The patient was transported by ground to nearby Aventura Hospital and treated for what officials called non-life-threatening injuries.
According to Lt. Matt Sparling of MDFR Ocean Rescue these incidents are rare, but he urges beachgoers to remain aware of their surroundings, swim near manned lifeguard towers and heed all issued warnings.
"In my 20 years as a lifeguard, this is the first time a person has been bitten here at Haulover Beach, and possibly the first for Miami-Dade County," Sparling said.
Copyright © 2017, ABC Radio. All rights reserved.