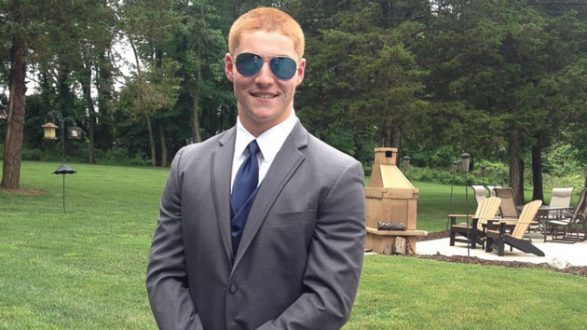 Credit: The Piazza Family(STATE COLLEGE, Pa.) — The father of Penn State pledge Timothy Piazza, a 19-year-old sophomore who died following a fall down an entire flight of steps that he took during a fraternity house hazing ritual in February, expressed his disappointment with the pretrial hearings that are currently underway, saying in an emotionally worded statement that they have tried his family's patience.
"These hearings have tried our patience as we listened to seven defense lawyers, each attempting to justify the unjustifiable and each attempting to shift the focus, shift the blame, and shift the responsibility from the men who they represent," the statement by Jim Piazza says.
At the end of the preliminary hearings, which began in June and have continued through this week, a judge will decide if there is enough evidence to go to trial.
Eighteen Penn State students are facing charges: eight for involuntary manslaughter, aggravated assault, reckless endangerment, and hazing, among other charges; four for reckless endangerment and hazing, among other charges; and six for evidence tampering. The Beta Theta Pi fraternity — which has since been barred from Penn State — is facing charges including involuntary manslaughter and hazing. No defendants have entered pleas at this time.
Timothy Piazza, who was a pledge at Beta Theta Pi, died on Feb. 4 after falling down the stairs during a night of drinking for a pledge ceremony that began at the house two days earlier.
In text messages released during the hearings, fraternity members, who did not call 911 until the morning of Feb. 3, about 12 hours after Piazza fell, according to a report on the grand jury's investigation, referred to the ceremony he underwent as an "obstacle course."
Someone allegedly texted, "When they see the video footage of the obstacle course we will be done," according to texts revealed by prosecutors during the hearing.
The teen's death was ultimately "the direct result of traumatic brain injuries" he suffered during the ceremony, according to the forensic pathologist, whose report was included in the Grand Jury investigation.
Jim Piazza reiterated in his statement that he believes a trial is necessary because his son's death "was no accident" and that the the facts of the case "show that there was a calculated plan carefully carried out by people who knew what they were doing and that it was wrong."
He expressed frustration with the slow process of the hearings, the tactics of the defense lawyers and the fraternity members themselves, who he said "continue, through their lawyers, to show no remorse, perpetuating the misconduct which caused Tim's death."
He also voiced concern for the tone with which the topic of hazing has been addressed in the courtroom.
"We have heard lawyers suggesting that hazing is an acceptable norm, that no one previously died from hazing in this fraternity house (and that therefore made it ok), that Tim somehow was a volunteer in their plan to alcohol poison him, and that their clients should be excused from responsibility for calculated and collective actions which they all knew were wrong and illegal, as evidenced by their own text messages and attempts at cover up," Jim Piazza wrote.
He referred to the text messages presented during the hearings and suggested that they demonstrated an understanding of culpability on the part of fraternity members.
"Text messages by and among the Fraternity leadership presented in court admitted the obvious when they privately confided to each other and others that they 'could go to jail' for what they did," he wrote. "Yet their lawyers and other lawyers tried for two days to make it appear that our son's death was merely an accident, not the premeditated calculation by those who caused it."
He also reached out to the parents of defendants who might believe that their sons were improperly charged, encouraging them to talk to them to come forward with information to help in the case.
"If they do, I will be extremely supportive," he wrote. "However, it must be now, not later when we resume for what undoubtedly will be two more grueling days of preliminary hearings in August."
The Piazza family has said they plan to filing a lawsuit against the fraternity members and Penn State and the university has announced proposals for new safety reforms, including: having university staff members monitor social events; university control of the fraternity and sorority misconduct and adjudication process; and permanent revocation of university recognition for any chapter involved in "hazing that involves alcohol, physical abuse, or any behavior that puts a student's mental or physical health at risk."
Penn State President Eric Barron said, "There are other measures being discussed and will be instituted over time — all with a focus on prevention, monitoring and enforcement. These measures augment a series of actions taken earlier this year, which are being made permanent." Barron added, "I am resolved to turn the pain and anguish radiating through our entire community into decisive action and reform, concentrating on the safety and well-being of students at Penn State."
Penn State's Interfraternity Council said, "We agree that added social restrictions, education, transparency and professional staff support are critical. We have tried to remain committed to being an active part of the solution within our community. We stand firm on our belief that when students are involved in collaborating with the university in monitoring and accountability, a greater impact is made. For that reason, we will continue to push for a partnership between student leaders and the university."
Copyright © 2017, ABC Radio. All rights reserved.