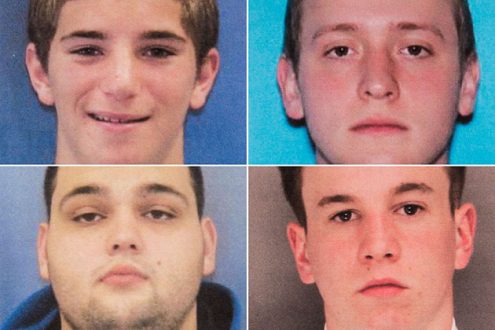 Bucks County District Attorney's Office(SOLEBURY, Pa.) — The girlfriend of one of the four Pennsylvania men murdered by accused killer Cosmo DiNardo, 20, has written a lengthy Facebook post remembering her beau as "loyal, respectful, understanding and patient."
Loralynn Ingreso begins her 443-word post by paying tribute to Thomas Meo, 21, writing, "Tom. My sweet, precious Tom. I am overwhelmed with all that has happened over the course of the past few days. Whatever I write here will not and cannot do his beautiful soul any justice."
Ingreso writes that the couple met in 2015, and recalls the moment she realized she had fallen for him. "He was and still is my best friend," she writes.
DiNardo and his cousin Sean Kratz were both charged with criminal homicide in the July 7 deaths of Meo, as well as Dean Finocchiaro, 19, and Mark Sturgis, 22. DiNardo is also accused of killing Jimi Tar Patrick, 19, on July 5.
According to court documents, DiNardo told investigators that he met Meo and Sturgis together at a parking lot in Peddlers Village. He told investigators he had a "deal" set up with Meo, and directed Meo and Sturgis to follow him to the Solebury Township property, telling Meo to park his car there. DiNardo then drove Meo and Sturgis to an adjacent property where Kratz was waiting, according to the court documents.
After Meo and Sturgis exited his vehicle, DiNardo said he shot Meo in the back with a .357 handgun. Meo fell to the ground and was screaming, he said. DiNardo told detectives he then fired several times at Sturgis as the man attempted to flee. Sturgis was struck and also fell to the ground. DiNardo said he had run out of ammunition, so he ran over Meo with the backhoe.
He then used the machine to lift both bodies into the metal tank where he had already placed Finocchiaro's corpse, according to the court documents.
Copyright © 2017, ABC Radio. All rights reserved.