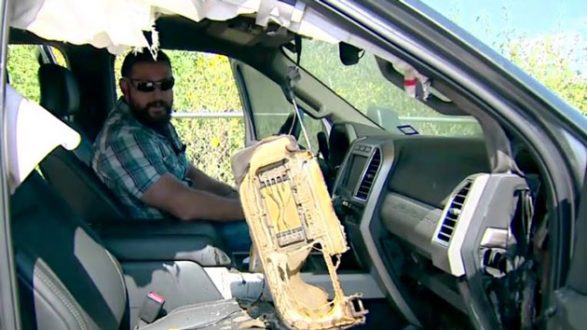 ABCNews.com(DALLAS) — A bolt of lightning has left Anthony Rubalcava familiar with three words that rhyme: struck, truck and luck.
The Texas man was sitting in his Ford F-250 Lariat on Saturday when lightning hit the vehicle's antenna and caused a small fire, scorching the passenger side.
"I guess in a way I feel blessed that it didn't hit my side because I might not be standing here right now," Rubalcava told ABC Dallas affiliate WFAA-TV.
Fire officials share Rubalcava's opinion and say he's lucky that he wasn't touching anything metal during the electrostatic discharge.
Amy Cortez of the Nevada Fire Department told WFAA, "The current could have gone through him and it could have been a totally different call that we got."
Thankful he escaped without injury, Rubalcava now intends to start looking for a new set of wheels. Perhaps a Chevy Bolt?
Copyright © 2017, ABC Radio. All rights reserved.