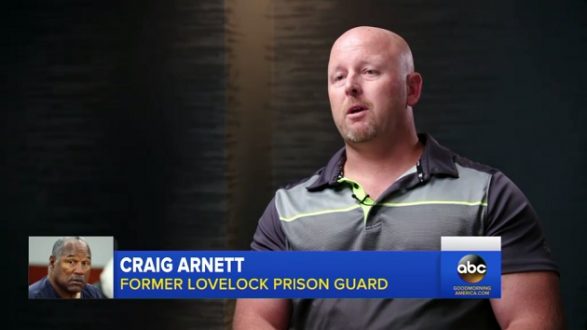 ABC News(NEW YORK) — O.J. Simpson will face a Nevada parole board Thursday after serving nine years in prison for armed robbery.
Craig Arnett, a former guard at Lovelock Correctional Center in Nevada, said he got to see Simpson regularly during his first three years working at the prison. Arnett described Simpson as a model prisoner.
"He's still an inmate, but he definitely wasn't a problem child like some of the other ones were," Arnett told ABC News. "I think he has a strong chance of getting out. I think he hasn't really been a problem in prison."
The parole board's six commissioners will also consider the potential risk Simpson could pose to society should he be released. Simpson needs a majority vote of four of the six commissioners to be granted parole.
Simpson was convicted of armed robbery after he tried to steal sports memorabilia from Bruce Fromong and his friend in 2007. Simpson said he was attempting to get back his own personal memorabilia, but he was sentenced to 33 years in prison.
The former Heisman Trophy-winning football star apologized for his actions during a 2013 parole hearing.
"I didn't know I was doing anything illegal, so I'm sorry," Simpson said at the time. "I'm sorry for all of it."
Now 70, Simpson is expected to speak at his parole hearing Thursday, which will be streamed live to the public.
Fromong told ABC News that he will be speaking on Simpson's behalf.
Copyright © 2017, ABC Radio. All rights reserved.