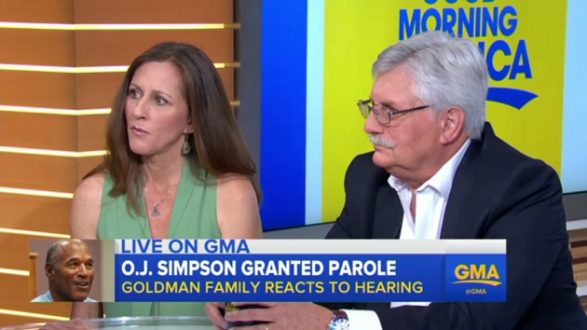 ABC News(NEW YORK) — The father and sister of Ron Goldman said they found the decision to grant O.J. Simpson parole "very disappointing."
"It was shocking," Kim Goldman, sister of Ron Goldman, said Friday on ABC News' Good Morning America about a Nevada parole board's granting Simpson parole for a 2007 botched robbery. "I think I expected that [Simpson] was going to come in with a script– 'I did these crimes, I'm so sorry, I'm remorseful, I know that there was a gun in the room.'"
Kim Goldman and Ron's father, Fred Goldman, spoke to GMA Friday about their reactions to the Thursday hearing and Simpson's comments to the parole board.
"I thought he was going to follow what I thought was going to be a very strategic plan for the day and then he went off-script," Kim Goldman said. "He became exactly who he normally is, and I started to panic a little and obviously like everybody else we watched them unanimously willing to release him and it was very disappointing."
The Goldmans said Thursday on GMA that they do not expect to ever see justice for the 1994 killing of their family member, Ron Goldman.
Simpson is expected to be released as early as Oct. 1.
Copyright © 2017, ABC Radio. All rights reserved.