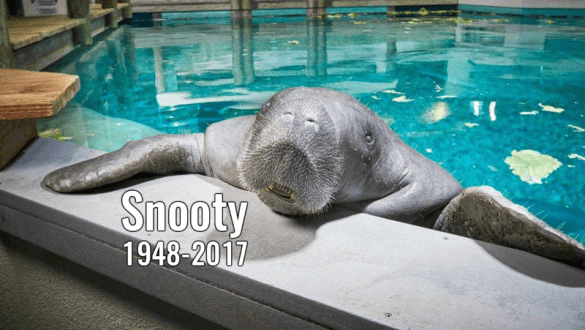 South Florida Museum(BRADENTON, Fla.) — Snooty, believed to be the world's oldest manatee and the oldest manatee in captivity, has died one day after celebrating his 69th birthday, according to officials at the South Florida Museum in Bradenton.
Officials said Snooty's death was the result of a tragic accident where the manatee was able to get into an underwater area that's normally blocked off and used to access plumbing for the life support system.
"The manatees had access to get into this tight area," said Jeff Rodgers, the museum's provost and chief operating officer. "The young manatees were able to get in and out of that and it appears that Snooty was able to get into the area, but he was not able to extract himself from that situation."
Museum officials were trying to figure out how to deal with the situation, and when they were finally able to get to Snooty, he was dead, the COO said.
Rodgers added there was no indication of foul play or anything malicious.
South Florida Museum CEO Brynne Anne Besio said the museum was "heartbroken" over Snooty's death.
"Snooty was important to so many," she said. "Today we are getting an outpouring of love and support from our community and all of Snooty's fans."
Copyright © 2017, ABC Radio. All rights reserved.