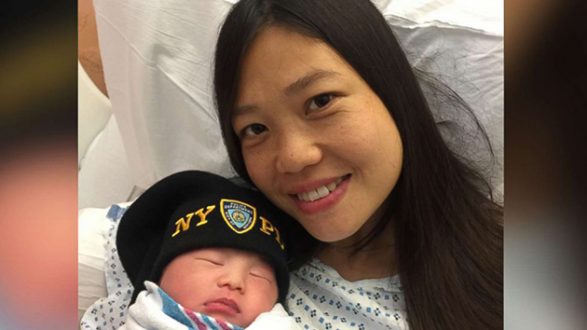 (Courtesy NYPD) Sanny Liu, the widow of NYPD Detective First Grade WenJian Liu, gave birth to the couple's daughter, named Angelina, on July 25, 2017, in New York.(NEW YORK) — The widow of a New York City police officer who was shot and killed on duty three years ago gave birth to the couple's daughter Tuesday.
Sanny Liu used in-vitro fertilization with sperm preserved after the death of her husband, NYPD Detective WenJian Liu, to conceive their daughter, Angelina, the NYPD announced.
WenJian Liu and his partner, Detective Rafael Ramos, were both gunned down in a December 2014 shooting. The shooter later killed himself on a subway platform.
Sanny Liu, who could not be reached by ABC News, told NYPD officials she asked that her late husband's sperm be preserved on the night of the shooting.
She also revealed she had a dream in which WenJian Liu, who was 32 when he died, handed her a baby girl, according to the NYPD.
"I told my friend, 'It's going to be a baby girl,'" she said in a statement released Tuesday by the NYPD. "My friend said, 'No, you haven't even checked the sonograms,' but I was right!"
Angelina was born at Weill Cornell Hospital, the NYPD said. The hospital, located on New York City's Upper East Side, declined to comment to ABC News, citing patient privacy.
The NYPD also shared a photo of WenJian Liu's parents, Wei Tang Liu and Xiu Yan Li, holding their granddaughter.
Thousands of mourners joined WenJian Liu's parents and his widow at his funeral ceremony in January 2015. Sanny Liu spoke at the funeral about how much her husband loved his job.
WenJian Liu "took pride in the fact that he is NYPD," she said through tears. "We spoke about work often, how much respect he had for the law, how he applied the law. He was objective in his determination of the law, with courtesy, respect, and with the highest professionalism."
"Although he worked often, he would always make sure to take time for me, his number one fan, his family and his friends," Sanny Liu said. "Wenjian is my hero."
Copyright © 2017, ABC Radio. All rights reserved.