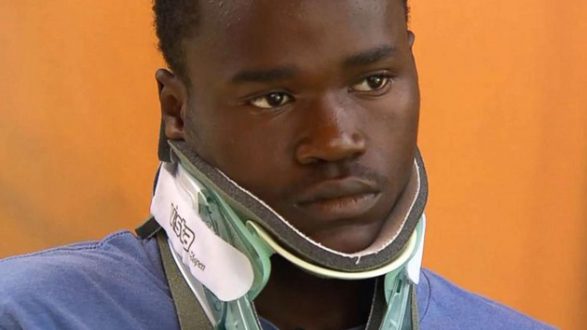 ABC News(NEW YORK) — An man who was riding the Fire Ball attraction at the Ohio State Fair Wednesday evening when it malfunctioned described the deadly incident as a "terrifying" experience.
Abdihakim Hussein, 19, was injured on the ride when it broke apart mid-air, but he didn't know it at first, he told ABC News on Friday. One teenager was killed and several others were injured in the incident.
Hussein and his girlfriend, 20-year-old Hannah Sallee, were riding beside the car that came apart when they noticed the floor of their car lift up.
"I was like, 'That's not supposed to happen,'" she told ABC News. Then, the car next to them broke apart.
"When the piece broke off… I was kind of shocked because the ride was still going," he said. "And I'm thinking, 'It's going to be us next.'"
The Fire Ball swings riders 40 feet in the air while spinning them at 13 revolutions per minute, according to amusement park operator Amusements of America. Hussein and Sallee had originally sat in the car that malfunctioned, but had switched cars before the ride started, they said.
"If we never would have switched it [our seats], that would've been us," he said.
Sallee said the pair attended the fair with her godchildren, who she says "saw those people flying through the air."
Once the ride "finally stopped," Sallee says she helped to carry a woman who appeared to be unconscious away from the scene and put pressure on her bleeding head until medics arrived, she said. She went on to criticize first responders.
"There was officers all around — why wasn't anyone coming up here to help us get off the ride?" she said. "There was so many people. It should've been done way faster."
Sallee said the woman she was assisting never regained consciousness at the scene. She added that she hopes she's OK.
"I want to know what went wrong," she said.
Hussein has a fracture to the back of his neck, he said. He didn't realize he was in pain until he tried to get out of the seat, which was still locked. The pain kicked in when he began to walk, he said.
It was Hussein's first time on any type amusement park ride, he said. He called the experience "terrifying."
Tyler Jarrell, 18, was killed, and seven more injured Wednesday evening, according to Ohio State Highway Patrol.
Jarrell's family is seeking justice for his death and plans to file a wrongful death lawsuit, the family attorney, Mark Kitrick, said in a statement. Kitrick did not disclose in the statement who will be named in the lawsuit.
"Everyone who knew Tyler is grief-stricken and in shock," said Jarrell's mother, Amber Duffield. "We just need to know how and why this happened, and whether it could have been avoided. We hope our demand for real answers will save others from being hurt or killed because of bad or dangerous amusement park rides."
"Tyler was a good young man, with a bright future ahead of him," Kitrick said. "This was a senseless, tragic incident that likely could have been avoided. Our only goal in filing a wrongful death suit is to obtain justice for Tyler."
As of Friday, two people remained in critical condition and two others were in serious condition, local hospitals announced in statements.
"I just feel so bad for the families," Sallee said. "It's just such a sad situation."
Amusements of America, which owns the Fire Ball attraction, released a statement earlier this week regarding the incident.
"Our family owned company is committed to working with state and local experts in trying to determine the cause of this tragic accident," Amusements of America said. "The ride was inspected by our staff as well as independent inspectors prior to opening at the Ohio State Fair. We are keeping those impacted by this tragic situation in our prayers and cooperating with those investigating this accident."
Copyright © 2017, ABC Radio. All rights reserved.