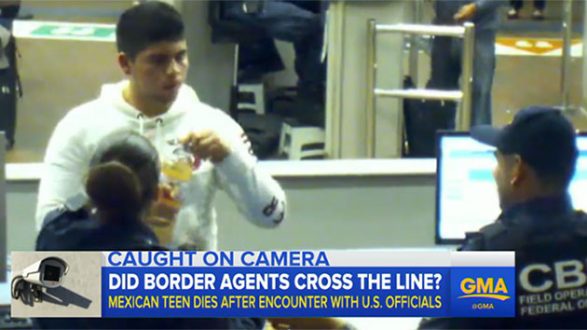 ABC News(NEW YORK) — A government surveillance video obtained by ABC News has shed new light on a tragic incident at the U.S.-Mexico border.
The video shows that in 2013 two U.S. Customs and Border Protection officers appeared to encourage, or at least permit, a 16-year-old Mexican high school student to drink from a bottle that tests would later reveal contained concentrated liquid methamphetamine.
The young man, Cruz Velazquez, died within two hours of drinking the substance, but the two officers involved, Valerie Baird and Adrian Perallon, remain on the job with no disciplinary action taken against them.
A former head of internal affairs at U.S. Customs and Border Protection, James Tomsheck, told ABC News the two officers violated agency protocols by allowing the young man to drink from the bottle, and that he was told at the time they would be punished.
"If they truly suspected there was a controlled substance in the bottle, they should've conducted a field test," Tomscheck said.
The video, which will air for the first time Friday on Good Morning America, World News Tonight with David Muir, 20/20 and Nightline as part of a yearlong investigation of U.S. Customs and Border Protection conducted by ABC News and The Investigative Fund, shows that Velazquez took four drinks from the bottle, and the officers appear to repeatedly encourage him with hand gestures.
The Velazquez family ultimately filed a civil lawsuit against the officers and the agency, claiming that the officers' actions led to Cruz's death.
"What you see, I think, is a basic lack of compassion and decency toward a 16-year-old boy," said Gene Iredale, the San Diego-based attorney who represented the Velazquez family. "Almost a delight that you would see in children who just pull the wings off flies slowly, a smile when he's being asked to drink something and being put in this position."
Both officers, who declined through their attorneys to be interviewed by ABC News, denied asking Velazquez to drink from the bottle, and the official report called the incident an "accident." Perallon claimed Velazquez "volunteered" to take a drink.
In response to the broader ABC News investigation, which revealed a history of cases in which the agency appeared to ignore accusations of mistreatment and abuse, the agency issued a statement, saying U.S. Customs and Border Protection "takes all allegations of mistreatment seriously, and does not tolerate actions that are not consistent with our core values of vigilance, service to country and integrity."
Earlier this year, the U.S. government paid the teen's family $1 million to settle a lawsuit. There was no apology or admission of wrongdoing, and both officers testified that they never received a reprimand for their conduct, a fact that still angers members of Velazquez's family.
"How can the government allow that? It's like, OK, you can kill someone," Reyna Velazquez, Cruz's sister, told ABC News. "They took him as a fool, as 'who cares.' Well, that 'fool'? He was the greatest person I ever knew."

Copyright © 2017, ABC Radio. All rights reserved.