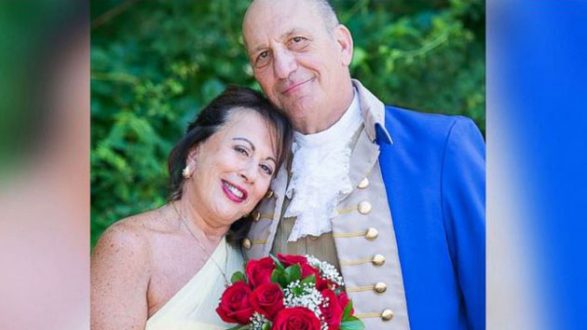 ABCNews.com(NANTUCKET, Mass.) — Newlyweds Arlene Sherman and Harvey Goldman held a magical "Beauty and the Beast"- themed wedding to appeal to their seven grandkids.
It was the second marriage for both the bride and groom, so they agreed they didn't want another traditional wedding.
"I'm a widow and Harvey's divorced. We've been together 10 years," Sherman, 64, told ABC News. "We both agreed we didn't want the traditional bride cuts the cake and first dance stuff. We also didn't want to taint what we had in the past, and we wanted something for us and the kids."
They held the July 30 wedding at North Shore Music Theatre in Beverly, Massachusetts, on the last evening the Disney-themed play was being performed. Sherman and Goldman wed in a traditional Jewish ceremony before attending the "Beauty and the Beast" matinee, enjoyed hors d'oeuvres with their family at intermission and then celebrated with desserts and drinks once the show was over.
"We knew we wanted to do something different," said Sherman. "That's why we did it this way."
The wedding decor included roses, guests dressed in yellow and blue and the groom's surprise: his rented Beast costume.
"After we took the formal photos, I snuck away and changed," Goldman, 70, said. "When I came out, I was dressed as the Beast was in the play, in the big blue coat with a puffy shirt. Everybody just laughed because they did not expect that. My son looked at me and rolled his eyes and said, 'Only you would do this.'"
Goldman, a funeral director, is obviously used to directing things, his new wife said.
"He always says, 'The first letters in funeral are f-u-n,'" she said with a laugh. "We knew we wanted to do something memorable that was casual and the kids could make fun of us. We wanted to be goofy, fun, youthful grandparents."
It was a fairy tale day for the entire family and now the lovebirds are honeymooning in Nantucket.

Copyright © 2017, ABC Radio. All rights reserved.