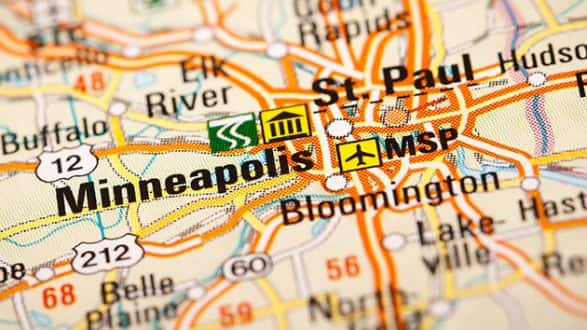 iStock/Thinkstock(MINNEAPOLIS) — Three people are unaccounted for after an explosion caused a school building to collapse in Minneapolis Wednesday morning, the Minneapolis Police Department said.
The building at Minnehaha Academy is on fire and the flames are being fed by a ruptured gas line, according to police. Early indications are that this may have been caused by a gas leak, police said. Police added that they are searching for victims while crews are working on extinguishing the fire.
Five people were taken to the hospital and one person was evaluated and released, police said.
The Minneapolis Fire Department initially said one fatality was reported but later said the fatality was not confirmed.
Police said it's unclear how many people are inside, but said three individuals had been rescued off the roof. Authorities added that it was fortunate that this incident did not occur during the school year, while students were in class.
ABC affiliate KSTP-TV reported that Minnehaha Academy said in a statement that there was a gas leak and explosion at its Upper School, and that only the Upper School was affected.
One father told KSTP-TV he was in the school counselor's office ahead of the incident with his daughter and wife. He said someone came into the office and told them there was a gas smell and everyone needed to get out.
His daughter got up to start exiting through the hallway, and "just seconds after that" was "a huge explosion," he told KSTP-TV.
"It was a large, huge 'boom,' " he told KSTP-TV. "One of those movie scenes where you kind of start shaking and it knocks you off your feet. It was pretty intense.
"Stuff started falling out of the ceiling. Kind of rocked my daughter and she fell back into the building. From there, people were in panic. We heard a lot of screaming."
They exited the building out a back door, and that's when he saw how severe this was, he told KSTP-TV. He called this a close-knit community and said he ran back in to try to find anyone hurt. Some parts of the building were completely blocked by debris, he said.
He said his wife and daughter were scratched up a little bit, but otherwise OK.
"We're blessed," he said. "This could've been a lot worse."
The fire department said the collapse was "caused by possible natural gas explosion."
Minnesota Gov. Mark Dayton said in a statement, "The state will provide any and all resources necessary to aid first responders."
This story is developing. Please check back for more updates.

Copyright © 2017, ABC Radio. All rights reserved.