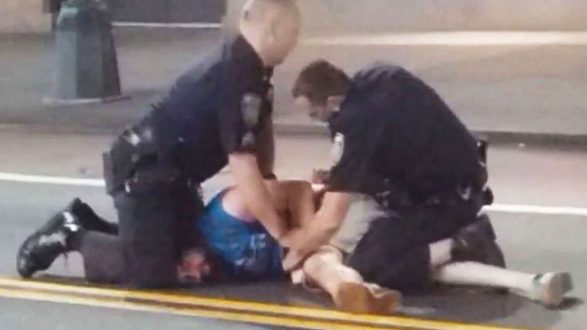 ABC News(NEW YORK) — Two Metropolitan Transportation Authority police officers were captured on video appearing to wrestle a man to the ground outside Penn Station in New York City before one of the officers appears to punch the suspect repeatedly in the head in an apparent attempt to subdue him.
In a video, the man can be heard asking onlookers for help. The incident, which occurred just before midnight Tuesday on West 34th Street, is currently under review, according to the MTA.
The man later told police that he was under the influence of LSD, according to a source familiar with the matter. The man had entered a car without invitation and was removed by the vehicle's occupants, the source said.
He was walking down the center of West 34th Street when the officers attempted to stop him, according to the source. As officers approached, the man became violent, flailing his arms, the source said.
After the man was subdued, an EMS vehicle was requested to help with an "Emotionally Disturbed Person," the source said. The man was then removed to Bellevue Hospital, according to the source.
All those involved in the incident have not yet been identified. The man who was detained has not been charged at this time.
The MTA responded to the scene instead of the New York Police Department because of the incident's proximity to Penn Station, which is home to several subways, as well as the Long Island Rail Road and New Jersey Transit.
Copyright © 2017, ABC Radio. All rights reserved.