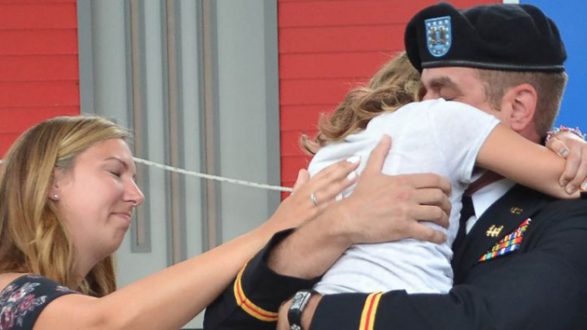 Chicago Zoological Society(CHICAGO) -- Kristi Flury, 12, thought she was on a mom-daughter date Thursday at Chicago's Brookfield Zoo when she and her mom sat down to watch the zoo's dolphin show.
When Kristi, of Sycamore, Illinois, was chosen to participate in the show, it became a dream fulfilled.
Kristi's dad, Josh Flury, a captain in the U.S. Army Reserves, surprised her after a nine-month deployment to Kuwait.
"My favorite moment was seeing him come out and just seeing him home," said Kristi, who sprinted to greet her dad after enduring his second deployment.
She added, "I'm excited to catch him up on how things have been going here and show him all the cool things I've learned and just welcome home."
Copyright © 2017, ABC Radio. All rights reserved.