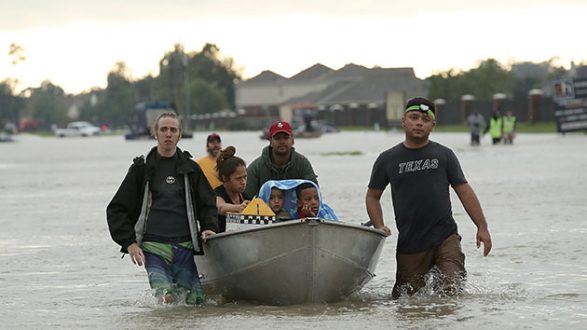 Win McNamee/Getty Images(ORANGE, Texas) — A line of boats being pulled by trailers was spotted driving toward Orange, Texas, after Tropical Storm Harvey made landfall for a third time nearby.
Footage taken by ABC News shows several pickup trucks towing private boats toward the city near the Louisiana border, where volunteers will launch their boats toward southeastern Texas cities such as Beaumont and Port Arthur to help rescue efforts in areas that have been devastated by relentless rain and flooding.
Water is as high as the roofs of homes in some areas, and even shelters housing evacuees in Port Arthur have been ravaged by floodwater.
The volunteers have traveled from other parts of Texas — and as far as Nevada and North Carolina — to offer rescue services to victims in need.
Hurricane Harvey first made landfall late Friday night in Texas as a Category 4 storm. It made landfall again Wednesday morning west of Cameron, Louisiana, near the Texas-Louisiana border.
More than 2 feet of rain was dumped in the Beaumont-Port Arthur area. The brunt of the storm has now shifted to western Louisiana.
At least 31 people have died as a result of the storm, according to reports. The majority of the deaths were due to people driving vehicles in high water, Texas Gov. Greg Abbott said.
First responders in Texas have carried out several thousands of water rescues in flood-affected areas.
Copyright © 2017, ABC Radio. All rights reserved.