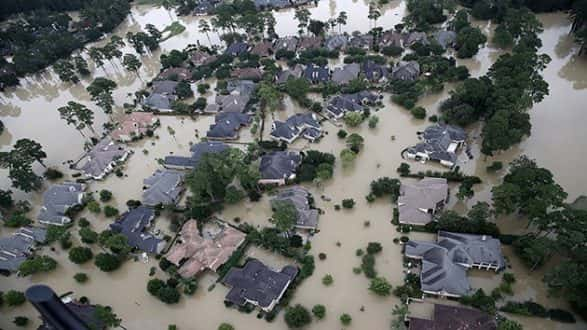 Win McNamee/Getty Images(HOUSTON) — Six days after Hurricane Harvey roared ashore in southeastern Texas, officials and residents have begun to assess the storm's trail of destruction in Houston as the flood waters slowly started to recede.
First responders, as well as urban search and rescue teams, launched a block-by-block, door-to-door search of badly flooded areas of Houston today to conduct recovery operations now that the weather has cleared and the rain has finally stopped.
Harris County Judge Ed Emmett told ABC News on Wednesday that thousands of people likely remain stranded and an estimated 30,000 to 40,000 homes have been destroyed in the Houston area as a result of Harvey's torrential rains, flooding, and strong winds. At least 31 people have died as a result of the storm's wrath, officials said.
Preliminary data shows Harvey has broken the rainfall record for a single storm event in the lower 48 states, according to the National Weather Service. The storm dropped a preliminary tally of 51.88 inches of rain in Cedar Bayou, Texas, some 30 miles east of Houston.
Harvey, which first hit land as a Category 4 hurricane, made its third landfall just west of Cameron, Louisiana, early Wednesday morning as a tropical storm. Harvey weakened to a tropical depression overnight before being degraded to a low-pressure system that is expected to bring heavy rain to the Tennessee Valley and the Ohio Valley.
As Harvey left the Houston area, the city's busy George Bush Intercontinental and William P. Hobby airports have reopened and officials anticipate all airlines to gradually resume service in the coming days.
The ports of Houston, Texas City, Galveston, and Freeport have partially reopened with specific restrictions on vessel sizes and traffic, according to the captain of the port for the Coast Guard Sector Houston-Galveston.
The Mexican Red Cross sent a convoy of English-speaking volunteers to Houston on Wednesday, hours after Texas Gov. Greg Abbott announced the state will accept the Mexican government's offer of aid and relief supplies, including vehicles, boats, and food.
Meanwhile, evacuees at overcrowded shelters were transported to a newly-opened emergency shelter at the NRG Center in Houston, which can house 10,000 people. According to the Federal Emergency Management Agency, there are three "mega shelters" in Houston and one in Dallas currently housing evacuees and flood victims.
The federal government still has more than 12,400 personnel stationed across Texas and Louisiana in response to the storm and subsequent flooding. FEMA Administrator Brock Long told reporters this morning that the agency's primary mission is still "taking care of people" and restoring "hope."
Some 10,000 people have been rescued in affected areas by federal forces, along with countless volunteer and neighbor-to-neighbor rescues, Long said.
Approximately 325,000 people have registered for FEMA assistance and $57 million has been distributed so far, according to Long. He reiterated that the agency will first try to move displaced residents from shelters into local hotels before helping them muck out their flooded homes so they can return to them. FEMA has already placed more than 1,800 flood survivors in hotels, Long said.
The U.S. Northern Command has deployed about 6,300 active-duty military personnel to the affected areas who have rescued or assisted more than 1,200 people so far.
As of this afternoon, the Coast Guard has rescued more than 9,000 people and 1,000 pets, with search and rescue operations ongoing.
The Transportation Security Administration has deployed nearly 700 additional employees to the Houston area, 300 of whom will fill in for TSA officers at local airports who were impacted by the storm, while the other 400 will serve on FEMA's Surge Capacity Force.
Copyright © 2017, ABC Radio. All rights reserved.