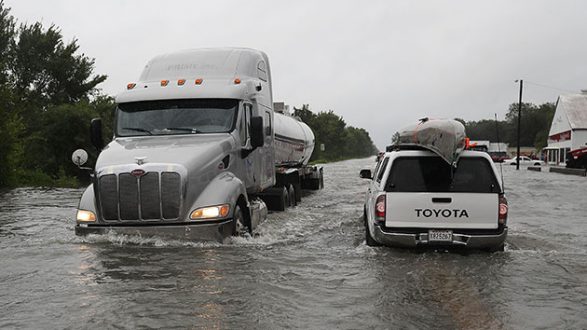 Joe Raedle/Getty Images(PORT ARTHUR, Texas) — Although Harvey's floodwaters have begun to recede in parts of Port Arthur, Texas, Mayor Derrick Freeman told ABC News that an unknown number of residents remain stranded and some homes, including his own, are still inundated with knee-deep water.
"Two nights ago, we had a lot of water. We got about 20 inches of water in about 24 hours, and it devastated our city," Freeman said in an interview Thursday with Good Morning America co-anchor Robin Roberts. "There's some parts that it's receded, it's gone down, but we still have people in 3- to 4-foot water in some homes."
In a Facebook livestream on Wednesday night, the mayor showed the 4 feet of water still inside his own home in the southeast Texas city.
"We got some water, y'all. Harvey wasn't playing," Freeman said in the video.
The mayor told ABC News that first responders and volunteer rescuers in Port Arthur will be going door to door to homes to conduct welfare checks.
Days after Harvey made landfall in Texas as a Category 4 hurricane, the Beaumont-Port Arthur metropolitan area saw a record-shattering 26 or more inches of rainfall on Tuesday alone, unleashing treacherous torrents on the community, located some 85 miles east of Houston. Officials in Port Arthur were forced to evacuate a nursing home as well as the shelter at the Bob Bower Civic Center on Wednesday after the buildings began to fill with water.
"It was something that we weren't prepared for," Freeman said in the interview on GMA. "We didn't know that we would have to get them out of there while we were rescuing people out of 4-foot water."
Meanwhile, Motiva, the largest oil refinery in the United States, is shutting down due to the devastating floods in Port Arthur. Motiva announced in a statement early Wednesday that it began a "controlled shutdown of the Port Arthur refinery in response to increasing local flood conditions." The refinery won't reopen until flood waters recede, it said.
A flash flood emergency for the cities of Beaumont and Port Arthur was extended until 4:30 p.m. Central Time on Wednesday. While the threat of heavy rains has ended in Houston, "catastrophic and life-threatening flooding" will continue in the Beaumont-Port Arthur area for the rest of the week, the National Weather Service said.
Harvey made landfall again as a tropical storm, just west of Cameron, Louisiana, on Wednesday at 4 a.m. CT, with maximum sustained winds of 45 mph, according to the National Weather Service. The storm has led to at least 31 deaths over the past four days.
The storm has weakened further, and its remnants will begin to move out of Texas and Louisiana. But it will continue to bring heavy rain and the threat of flooding to parts of the Tennessee Valley and the Ohio Valley through Friday, according to the National Weather Service.
The Port Arthur mayor told ABC News that his biggest concern now is "the rebuild," but he's confident his city will do just that.
"We're going to bounce back," Freeman said. "We got hit with Hurricane Ike, Hurricane Rita and Hurricane Harvey, and we've rebuilt every time. So we're going to rebuild this time. We're going to be OK."
Copyright © 2017, ABC Radio. All rights reserved.