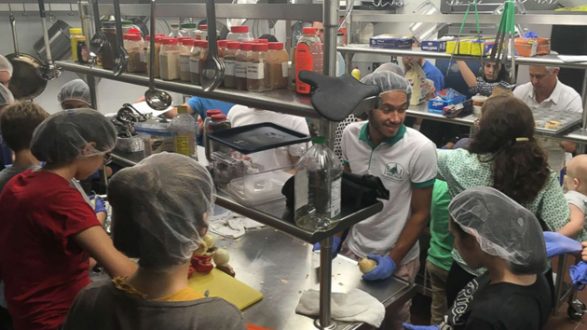 Aishel House(HOUSTON) — Dayna Skolkin and Josh Tillis planned to hold a dinner for friends and family tonight at a Houston location meaningful to both of them to celebrate their wedding, which was scheduled for Sunday.
The location, Aishel House, a center that provides food and lodging for hospital patients and their families, had ordered all of the food for Skolkin and Tillis's three-course dinner for around 100 people.
On Saturday, one day after the food was delivered to Aishel House, Hurricane Harvey began pummeling the Houston region, flooding nearly the entire city.
As the rain came, Aishel House's directors, Rabbi Lazer Lazaroff and his wife, Rochel Lazaroff, got a call asking for help cooking meals for people stranded in their homes and at evacuation shelters.
"They said, 'We can call people's homes and have them bring over food because we don't know how you're going to get any,'" Rochel Lazaroff recalled. "I told them, 'I have a kitchen full of fresh food.'"
Aishel House, which sits a few blocks from Texas Medical Center, was surrounded by floodwaters but did not sustain major damage, according to Rochel Lazaroff.
As Rochel Lazaroff transformed the food she had on hand for a pre-wedding celebration into meals for hurricane evacuees, Skolkin and Tillis made the decision to postpone their wedding.
The couple had planned to wed at a hotel located across the street from the George R. Brown Convention Center, where thousands of evacuees have sought shelter in Houston.
"I was a little more emotional and holding onto hope it could happen," Skolkin, whose apartment escaped flood damage, told ABC News. "But I saw photos shared by family and friends whose houses were flooded and it made me realize these people that would be guests at our wedding are going through something way bigger than what I'm upset about."
Skolkin's mother, who passed away five years ago, helped the Lazaroffs start Aishel House, which is why Skolkin chose to have a pre-wedding celebration there.
She and Tillis paid a surprise visit to Aishel House on Tuesday as they sought to give back amid the devastation around them.
"It was just the obvious choice for us, especially with what they were going to give us this weekend," Skolkin said. "We wanted to give back to them and knew the patients would need help."
Rochel Lazaroff was in the kitchen cooking the food meant for Skolkin and Tillis's dinner when she saw them walk in.
"I almost started crying," she recalled. "We both had a really emotional moment and Dayna said, 'I'm not going anywhere else. I knew I would feel good coming here.'"
The dinner menu planned for the pre-wedding dinner has resulted in unusually elaborate meals for hurricane relief.
"We were going to do a three-course meal so basically every night we're serving a different course from her meal," said Lazaroff, whose meals have included salmon with white wine sauce and capers, brisket, roasted cauliflower, matzo ball soup and ratatouille.
"I'm getting messages saying, 'Oh my God, the food is fantastic,'" she said. "So the celebration is continuing without the wedding."
Skolkin and Tillis, who got engaged last September, have rescheduled their wedding for December.
Rochel Lazaroff and her team of volunteers have continued since Sunday to produce as many as 250 meals per day.
Skolkin called it "amazing" and heartwarming that food meant to celebrate her marriage is now going to help so many other people.
"I know the comfort that food can provide for people and unfortunately sometimes when you're going through disaster, it's the last thing we think about for ourselves," she said. "I'm so happy they were able to provide for families that otherwise wouldn't easily be able to get food."
Copyright © 2017, ABC Radio. All rights reserved.