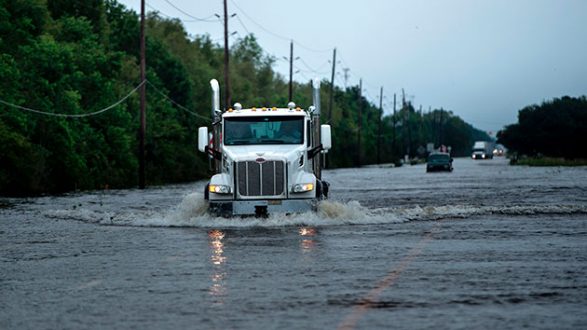 Brendan Smialowski/Getty Images(CROSBY, Texas) — The U.S. Chemical Safety and Hazard Investigation Board (CSB) has launched an investigation into the fire at the chemical plant owned by Arkema Inc. in Crosby, Texas, after explosions and fires rocked the plant in the wake of Hurricane Harvey.
Arkema announced at 5:30 p.m. ET on Thursday that the fires which began burning early in the day were out. However, officials don't expect that to be the end of troubles at the plant.
"We continue to monitor the temperature in the remaining trailers and there is evidence suggesting that other trailers will soon burn, but there have been no reports of any fires or smoke," a statement from Arkema said.
The Environmental Protection Agency said in a statement they concluded the best course of action was to allow the trailers containing organic peroxide to burn out instead of putting emergency responders in harm's way.
The chemical plant — which sits about 15 miles east of Houston's city center — was compromised by the record flooding in the area. While Arkema executive Richard Rennard said in a press conference Thursday morning that the plant was emitting "noxious" smoke, he would not respond to a question as to whether the smoke from the burning substances was toxic.
But later in the day, the EPA said its aerial surveillance aircraft did not detect toxic concentrations of chemicals at the site.
"Following this fire, EPA sent aerial surveillance aircraft to test resulting smoke and did ground-level air quality monitoring," read a statement. "EPA's plane instrumentation is capable of measuring 78 different chemicals, including peroxides. Neither testing methods found toxic concentration levels in areas away from the evacuated facility."
"The smoke and loud 'popping' noises came from one of nine containers on site holding liquid organic peroxides that must remain cold, or the chemicals will become unstable and will start to break down as they warm up," Rennard said.
The plant lost its ability to keep the products refrigerated because of the storm's floodwaters and power loss in the area.
"It's not a chemical release that's happening and I want to be clear about that," Rennard added. "What we have is a fire."
Although a smaller agency, the CSB conducts investigations in a similar manner to the National Transportation Safety Board.
Copyright © 2017, ABC Radio. All rights reserved.