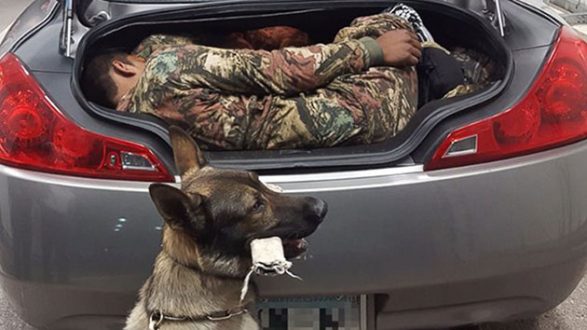 Twitter/@CBPArizona(WHETSTONE, Ariz.) — A U.S. Border Patrol K9 is responsible for the arrests Thursday night of two Mexican nationals who illegally entered the country by hiding in the trunk of a car. Two American citizens who smuggled the pair into Arizona were also arrested, according to U.S. Customs and Border Protection (CBP).
Agents working at the immigration checkpoint near Whetstone, Arizona, referred a 2008 Infiniti coupe for a secondary inspection after a CBP dog alerted them to an odor it was trained to detect. When agents opened the vehicle's trunk, two adult males were found hiding inside.
The two Mexicans were arrested are being processed for immigration violations, CBP said.
The 24-year-old driver and 26-year-old passenger, both from Tucson, were arrested for human smuggling. Agents also seized the vehicle.
"The tactic of concealing humans in the trunks of vehicles is commonly used by smugglers, which could lead to suffocation, heat stroke, hypothermia or injury from vehicle collisions," CBP said in a statement.
The statement continued, "And while many vehicles are equipped with safety features that would allow passengers to escape through the cargo compartment in an emergency, some do not. However, for the safety features to work, occupants need to know how to use them."
Copyright © 2017, ABC Radio. All rights reserved.