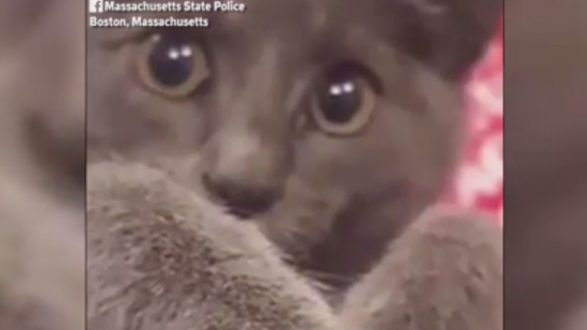 Massachusetts State Police(BOSTON) — Police shut down a tunnel in Boston to rescue a kitten who officials said "decided to play a little hide and seek."
The adorable gray kitten was spotted by drivers in the Route 90 Connector Tunnel on Sunday, according to Massachusetts State Police, and officials received multiple calls.
"Thank you for all the calls and especially to the Animal Rescue League of Boston, for their quick response and save," Massachusetts State Police said in a Facebook post on Sunday. "Sergeant Bob Dateo shut traffic down to enable the rescue of her."
The kitten lost some fur on her tail due to "some sort of burn," according to police, but the good news is she was medically cleared and "her prognosis is good."
Police asked for suggestions on Facebook for what to name the kitten. Several people offered names related to the incident, including Lucky, Hope, and Trooper Kitty.

ABC Breaking News | Latest News Videos
Copyright © 2017, ABC Radio. All rights reserved.