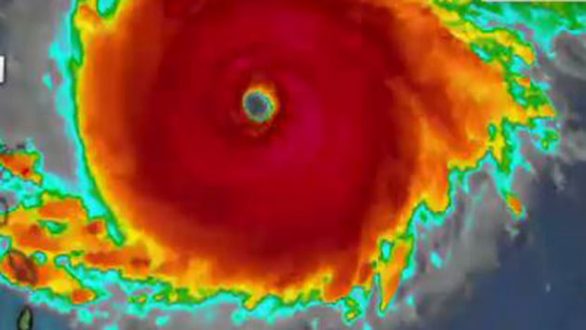 ABC News(NEW YORK) — Hurricane Irma has strengthened to a Category 5 storm and catastrophic damage is possible in the Florida Keys and southern Florida this weekend.
Irma is packing 175 mph winds as of 8 a.m. ET Tuesday and is expected to continue churning with deadly hurricane-force winds and a dangerous storm surge across a wide swath of the Caribbean this week before moving toward southern Florida.
Hurricane warnings are in effects for islands including the U.S. territory of Puerto Rico, where the governor Tuesday called the storm unprecedented as the island braces for Irma to hit.
The storm is expected to approach Florida Saturday night into Sunday early morning with winds near 150 mph.
Florida Gov. Rick Scott on Monday declared a state of emergency for every county to ensure that local governments have enough "time, resources and flexibility to get prepared for this dangerous storm," according to a statement from his office.
Scott said in the statement that Irma is a "life-threatening" storm and Florida "must be prepared."
"In Florida, we always prepare for the worst and hope for the best," Scott said, "and while the exact path of Irma is not absolutely known at this time, we cannot afford to not be prepared."
The current NHC storm track puts Irma near the Leeward Islands, including Antigua and Barbuda, on Tuesday.
The Virgin Islands and Puerto Rico are forecast to see deteriorating conditions throughout the day on Wednesday with the worst of the rain and wind arriving Wednesday night.
The storm is expected to pass north of Puerto Rico Wednesday night into early Thursday morning.
In Puerto Rico, a state of emergency has been declared, activating the National Guard as the U.S. territory prepares for a storm Gov. Ricard Rossello called unprecedented.
"This is the time to take action," the governor said Tuesday.
Héctor Pesquera, the superintendent of the Puerto Rico police, said at least 14 hours of wind and rain is expected, calling the storm more dangerous than Hurricane Harvey, which made landfall in Texas Aug. 25 as a Category 4 storm.
Rossello warned that emergency services will stop when winds reach 50 mph.
Shelters are being opened in preparation for the storm, and the governor said all those who have vulnerable homes or flood prone areas need to start evacuation plans and head to shelters.
The governor has canceled classes for Tuesday and declared a half-day of work.
Copyright © 2017, ABC Radio. All rights reserved.