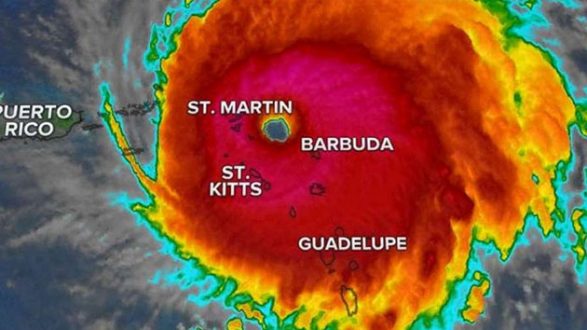 ABC News(MIAMI) — Hurricane Irma made its first landfall in the Caribbean during the early morning hours on Wednesday as Floridians prepared for the worst ahead of the record-breaking storm.
The monster storm maintained winds of 185 mph — with gusts topping 200 mph — even as it made landfall in Barbuda at about 2 a.m. on Wednesday. The storm was moving west-northwest at about 15 mph with St. Martin in its crosshairs as of 5 a.m. on Wednesday.
There was a hint of good news for Floridians in Wednesday's 5 a.m. update from the National Weather Service. The hurricane's path is now forecast to ride up the middle of Florida, keeping the worst side of the storm in the Atlantic Ocean. But many projections for the storm now show it could move east of Florida and make landfall near Georgia or the Carolinas.
Irma is the strongest hurricane ever in the Atlantic basin outside of the Caribbean Sea and Gulf of Mexico. But the storm is closing in on the record set by Hurricane Allen in 1980, which reached maximum sustained winds of 190 mph.
Forecast
The "potentially catastrophic" storm, as described by the National Weather Service, is expected to skirt the northern parts of Puerto Rico, the Dominican Republic and Cuba over the next three days. New hurricane warnings were issued for the Bahamas, and Turks and Caicos on Wednesday morning, with the storm expected to move over Puerto Rico on Wednesday afternoon.
Preparations are already underway in Florida, where landfall is expected in south Florida on Sunday afternoon. The shifting projections of the storm, as of 5 a.m. on Wednesday, show Irma will travel up the middle of Florida and even possibly to the east.
So-called "spaghetti models," which project possible paths for the storm, show Irma could threaten the Carolinas and East Coast of the United States.
Evacuations
Mandatory evacuations have already been ordered for Monroe County, which covers the Florida Keys. Evacuations for visitors are required beginning Wednesday morning, and residents must evacuate starting Wednesday at 7 p.m.
Many residents of the Florida Keys didn't wait until Wednesday as they headed out of the region Tuesday evening. Naval Air Station Key West, and its 5,500 personnel and families, was also evacuated beginning Tuesday night.
So far, there are no other mandatory evacuations in Florida, but officials in Miami-Dade County have advised residents in low-lying areas, including Miami Beach, to begin evacuating on Wednesday.
North and east portions of Puerto Rico, which Gov. Ricardo Rossello called most flood-prone, were ordered evacuated as well.
Gas Shortages
Many areas of Florida have already seen gas shortages, with the hashtag #nogas popping up on social media Tuesday. Long lines formed all over the state, not just in the Miami area. Stations in the Tampa area have run out, and long lines were common at Orlando stations.
Juliana Caceres shared a post on Instagram saying she had to wait in line for a half-hour to get gas in Lauderhill, Florida — about a half-hour north of Miami.
The problems extended north to Jupiter, Florida — on the eastern coast, 90 miles north of Miami — where gas was also selling out.
Tropical Storm Jose
Just as people are done focusing on Irma, Tropical Storm Jose is following up behind on a similar path. Jose officially became a tropical storm on Tuesday before noon with winds of 40 mph.
Jose is expected to become a Category 2 hurricane by the end of the week. It could skirt the most northeastern Caribbean islands, but so far it is not projected as a threat to Puerto Rico or the United States.
Copyright © 2017, ABC Radio. All rights reserved.