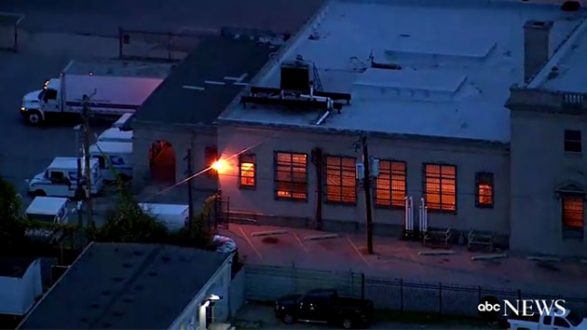 ABC News(EAST CHICAGO, Ind.) — The FBI is investigating after an explosion at a post office in East Chicago, Indiana, injured a postal worker on Wednesday.
East Chicago Acting Fire Chief Francisco Mendez told ABC affiliate WLS-TV that an explosive device went off at a post office on East Chicago Avenue at about 6 p.m. CT. A female postal worker suffered minor injuries in the explosion and was taken to the hospital as a precaution, WLS-TV said.
"At this early stage in the investigation, it has yet to be determined if this is an act of domestic or international terrorism. But at this time, there is no ongoing public safety concern," an FBI spokesperson told ABC News Wednesday night. "The investigation is ongoing and is being led by the FBI."
A coworker told the station that the woman, who was just recently hired, is pregnant. Officials said only the two postal workers were in the office at the time of the explosion.
The U.S. Postal Inspection Service; East Chicago Police Department; Porter County Sheriff's Office; Lake County Sheriff's Department; FBI; Indiana State Police; the Bureau of Alcohol, Tobacco, Firearms and Explosives; and the Indiana State Fire Marshal's Office all responded to the scene, according to an FBI spokesperson.
BREAKING: Possible explosion reported at East Chicago post office: https://t.co/58IhoGMaS8 pic.twitter.com/vHqfuhusng

— ABC 7 Chicago (@ABC7Chicago) September 7, 2017
East Chicago is located just over the border from Illinois and only about 23 miles southeast of Chicago.

Copyright © 2017, ABC Radio. All rights reserved.