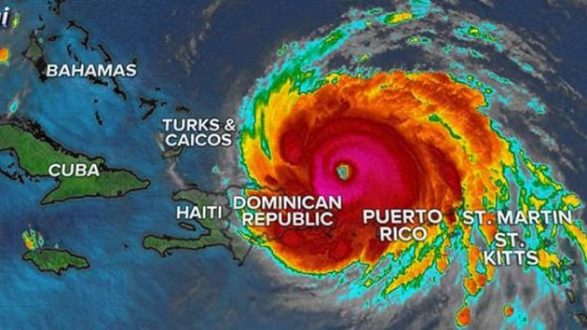 ABC News(MIAMI) — Hurricane Irma skirted north of the Dominican Republic early Thursday as the Category 5 storm set its sights on south Florida after leaving devastation in its wake in the Caribbean.
Irma had maximum sustained winds of 180 mph as of 5 a.m. on Thursday morning as it moved away from the northern coast of Puerto Rico and over the Dominican Republic and Haiti. The wind speeds were down slightly from the day before, according to the National Weather Service, but only by 5 mph.
Irma was about 95 miles north of Punta Cana, Dominican Republic, at 5 a.m. on Thursday and moving west-northwest at 17 mph. The storm is expected to graze the northern Dominican Republic and Haiti with rain and gusty winds during the day on Thursday. Storm surge on the northern coast of the Dominican Republic could be 3 to 5 feet.
Tropical force winds extend 185 miles outward from the center of the storm.
Projections still have Irma making landfall in south Florida, near Miami, on Sunday morning as a Category 4 storm. Maximum sustained winds could be nearly 150 mph, and a serious situation is possible due to storm surge.
Mandatory evacuations have been delivered in two Florida counties: Monroe County and Miami-Dade County's Zones A and B. Monroe covers the Florida Keys, while Miami-Dade's Zones A and B include Miami Beach and Key Biscayne. The state has also issued voluntary evacuations in Broward and Collier counties. Florida Gov. Rick Scott said late Wednesday that he expects additional orders will be given once the storm grows closer.
Turks and Caicos are the next islands that will feel the wrath of Irma. The tiny group of islands southeast of the Bahamas could experience storm surge up to 20 feet. The islands are just 10 feet above sea level — or less. The islands can also expect 8 to 12 inches of rain — and up to 20 inches locally — through Saturday.
Hurricane warnings were in effect all the way to the western Bahamas on Thursday; however, there are no hurricane warnings yet for Florida.

Ten dead in the Caribbean

The islands of St. Martin and Barbuda were especially hard hit in the storm, as they continue to assess damage suffered during the day on Wednesday.
At least eight people were killed and 21 more injured on St. Martin, according to French Interior Minister Gérard Collomb. Irma delivered massive destruction to the small island, which is divided in half between a French and Dutch side. Jonathan Falwell — a pastor from Lynchburg, Virginia, and son of late televangelist Jerry Falwell — was on St. Martin as the storm hit and shared photos of the destruction on Twitter.
Another photo from this morning. It's so tragic. Situation is catastrophic. pic.twitter.com/KFhZvuxmKc

— Jonathan Falwell (@jonathanfalwell) September 6, 2017

Collomb said that although the airport was not destroyed, it is also not functional; support will have to be delivered via helicopter. He said 100,000 military emergency rations will be sent to the population.
One person was also killed in Barbuda on Wednesday. The island suffered near-total destruction, with 90 percent of structures on the island destroyed, according to Antigua and Barbuda Prime Minister Gaston Browne.
Barbuda recorded the strongest winds of any island in the path of Irma as 155 mph gusts were measured on Wednesday morning. The U.S. Virgin Islands saw a wind gust of 131 mph on Buck Island north of St. Croix.
Video from St. Thomas in the U.S. Virgin Islands showed the intensity of the storm's winds.
One person also died in Anguilla, according to Melissa Meade, director of disaster management in the British territory.
Puerto Rico largely avoided the worst of the storm, with the highest gust on the island measured at 70 mph.

Copyright © 2017, ABC Radio. All rights reserved.