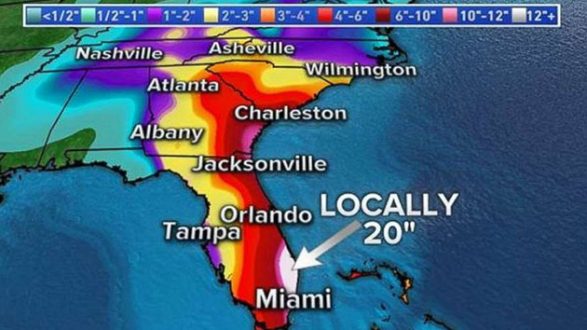 ABC News(MIAMI) — Major storm surge and 150 mph winds awaited South Florida even as Hurricane Irma was downgraded to a Category 4 storm in its crawl toward the U.S. mainland on Friday morning.
The 5 a.m. update from the National Hurricane Center (NHC) showed maximum sustained winds of 155 mph, making it officially a Category 4 storm. The NHC still cautioned the storm was "extremely dangerous."
The NHC issued its first hurricane warnings for Florida overnight, warning residents that "preparations to protect life should be rushed to completion."
Landfall in southern Florida is expected sometime around 3 a.m. or 4 a.m. on Sunday as a Category 4 storm. The worst of the winds and storm surge are projected near Marathon and Key Largo, but Miami and heavily populated southeastern Florida are still on the strongest side of the storm.
The storm was located 55 miles northwest of Great Inauga Island in the Bahamas and now 495 miles southeast of Miami. The storm was moving west-northwest at 16 mph.
Mandatory evacuations have been ordered for an estimated 1.2 million Floridians, according to an ABC News estimate. Those evacuations include Monroe County (the Florida Keys), coastal regions and anyone living in a mobile home in Miami-Dade County, barrier islands in Lee County, coastal areas of Broward County, coastal areas of Palm Beach County, barrier islands in Martin County, barrier islands in Indian River County, coastal areas of Brevard County, coastal areas of St. John's County and cities surrounding the southern half of Lake Okeechobee.
"A storm surge warning means there is a danger of life-threatening inundation from rising water moving inland from the coastline, during the next 36 hours in the indicated locations," the National Weather Service said in its newest warning.
We cannot stress this enough, #Irma is extremely dangerous! The #StormSurge across the #FLkeys could be devastating! 5-10ft above ground! pic.twitter.com/ZhaPGlT3GU

— NWS Key West (@NWSKeyWest) September 8, 2017

Irma is expected to approach the Florida Keys and southern Florida late Saturday evening as a strong Category 4 hurricane with maximum sustained winds of about 150 mph. Overnight projections of the path of Irma showed less of a threat to the Carolinas as it appears likely to move directly up the middle of Florida and curve inland.
The storm will continue to weaken as it moves inland during the day Sunday into Monday. It will near Orlando around 2 a.m. on Monday still as a major hurricane with winds of about 105 mph. After Orlando, the storm should weaken rapidly to a tropical storm during the day Monday when it enters Georgia.
Still, heavy rains are expected in northern Florida, Georgia and even possibly into South Carolina and Tennessee by Tuesday.
Rainfall totals in southeast Florida and the Florida Keys are expected to be 10 to 15 inches, with totals up to 20 inches locally. Eastern Florida, up the coast to Georgia, will receive 8 to 12 inches, according to Friday morning projections from the NWS.
Turks and Caicos pummeled, Bahamas next
The islands of Turks and Caicos were hit hard overnight into Friday as the storm passed over. A government spokesperson told ABC News that the island had sustained "catastrophic" damage.
The NWS issued warnings of storm surge up to 20 feet for the low-lying islands. Eight to 12 inches of rain, with isolated areas of up to 20 inches, will fall on the islands through Sunday.
The Bahamas began to feel the full brunt of Hurricane Irma on Friday morning. The speed of Irma was expected to slow as the core of the hurricane passed between the Bahamas and the northern coast of Cuba during the next two days.
Copyright © 2017, ABC Radio. All rights reserved.