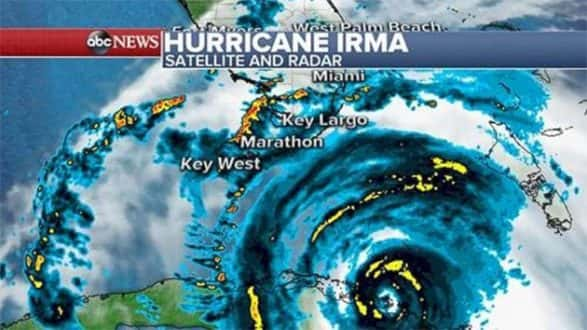 ABC News(TAMPA, Fla.) — Hurricane Irma cut a swath of destruction through the Caribbean before moving slowly northwest toward Florida's west coast, where it is expected to make landfall Sunday.
The eye of the hurricane is expected move over the Florida Keys at around 5 or 6 a.m., bringing winds up to 115 mph.
The storm is then expected to make landfall near Naples, Florida, by Sunday evening.
Heavy rain and strong winds and big storm surges as far north as Tampa are expected throughout Sunday. By Monday morning, the hurricane is expected to weaken as it moves over northern Florida.
The storm hit Cuba overnight Friday as a Category 5 hurricane. By midday Saturday it had weakened slightly to a Category 3, but still with powerful winds of 125 mph.
It is a huge hurricane, with satellite images on Saturday showing Irma's outer bands stretching from Cuba all the way across the bottom half of Florida out to the Atlantic.
Irma is expected to bring destructive storm surges up to 15 feet high to southwest Florida.
Florida Gov. Rick Scott warned Saturday of the dangers from what he called a "deadly, deadly, deadly storm surge."
After hitting Cuba, the hurricane slowed. Throughout much of Saturday, it hugged the north of Cuba as it slowly turned north-by-northwest toward Florida's west coast.
Two other images show how air traffic over south Florida has come to a standstill.
The first flight radar image shows the absence of virtually any flights over the southern part of the state Saturday. The second image shows how busy the same skies were a week before, on Sat., Sept. 9.
Flightradar24
Flightradar24
Copyright © 2017, ABC Radio. All rights reserved.