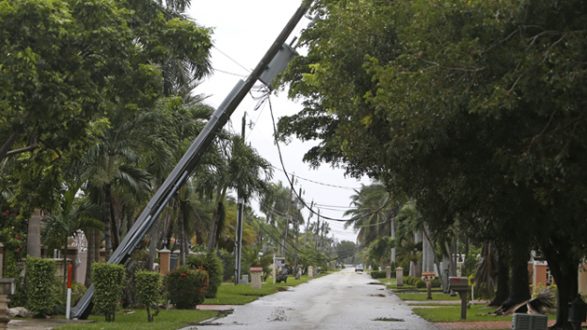 David Santiago/El Nuevo Herald/TNS via Getty Images(MIAMI) — As Hurricane Irma continues to move north through Florida after making landfall on the state's west coast Sunday afternoon, an executive from Florida Power & Light estimated that it could "take weeks" to restore power to some parts of the state.
Over 2.7 million homes were without power Sunday as the storm's 100-plus mph winds toppled power lines and sheared structures in the state.
"What we think we'll see on the west coast is a wholesale rebuild of our electric grid," Robert Gould, Florida Power & Light's vice president and chief communications officer, told ABC News. "That will take weeks."
"This thing is a monster," he added.
Gould estimated that FPL positioned "17,000 restoration workers from about 30 states" in anticipation of repair efforts before the storm arrived, but said that flooding from storm surges and traffic congestion as residents return home this week would delay the project.
"This is going to be a very, very lengthy restoration, arguably the most lengthy restoration and most complex in U.S. history," he said, asking that customers be patient.
On the east coast of the state, which avoided a direct hit from the eye of the storm, Gould expects repairs to last "probably a week or more."
Copyright © 2017, ABC Radio. All rights reserved.