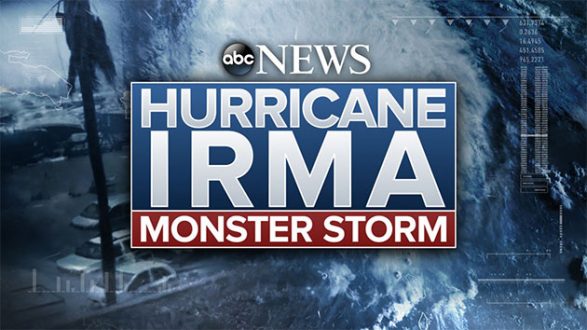 ABC News(KEY WEST, Fla.) — Hurricane Irma is pummeling Florida with powerful winds and rain after making landfall in the Florida Keys Sunday morning. The storm has left at least three people in the state dead, including a sheriff's deputy, and over 1 million households and businesses without power.
In Miami, winds whipped around high-rise buildings at speeds approaching 100 mph, the National Weather Service said. A 94 mph wind gust was recorded at Miami International Airport. The winds caused a tower crane to collapse on an under-construction high-rise in Miami Sunday morning, city officials said.
#GOES16 captured this geocolor image of #Irma's eye over the Florida Keys at approx. 9:00 am EDT. Latest info @ https://t.co/cSGOfrM0lG. pic.twitter.com/ubTAS23nmQ

— NOAA Satellites (@NOAASatellites) September 10, 2017

The Miami-Dade Police tweeted that its officers are sheltered for their safety and cannot respond to calls for service.
Irma also brought wind gusts of 93 mph near Key Largo and 89 mph to Key West. Florida Gov. Rick Scott told ABC News' George Stephanopoulos on This Week that the Keys were "getting pounded."
By 10 a.m., the storm's eye was moving away from the Florida Keys, and by 11 a.m., the storm had moved to about 80 miles south-southeast of Naples on Florida's west coast.
Irma is forecast to move up the western coastline of Florida Sunday afternoon, with another landfall possible later near Fort Myers and Naples.
Wind gusts of 75 mph were recorded at the Naples Airport early Sunday, and officials were warning people to stay indoors and away from windows.
The storm's eye is expected to pass near Fort Myers Sunday evening and head over Tampa overnight, bringing the storm near Cedar Key and Tallahassee, along Florida's panhandle, by Monday morning.
The National Weather Service warned Florida residents that being in the eye of a hurricane can lead to a false sense of security.
IF winds go calm, you're in the eye. Stay inside! Winds dramatically shift and will do so violently! STAY INSIDE!

— NWS Key West (@NWSKeyWest) September 10, 2017

Fatalities in Florida

As Irma bore down on Florida on Sunday morning, at least three deaths were reported in the state.
A man in Monroe County, which encompasses Key West, was killed after he lost control of a truck that carried a generator as winds whipped at tropical-storm strength, officials said.
Two other people, including a sheriff's deputy, died in a car crash in the rain in Hardee County, which is about 60 miles inland from Sarasota, officials said. The sheriff's deputy, identified as Julie Bridges, was a 13-year veteran of the Hardee County force, said Hardee County Sheriff Arnold Lanier.
The death toll from the hurricane in the Caribbean, meanwhile, has risen to 22, bringing the total number in Irma's path who have died to at least 25.

Millions ordered to evacuate
As the monster storm neared, about 6.3 million Floridians were under evacuation orders. When evacuation orders in South Carolina and Georgia are included, the number climbs to 6.8 million.
More than 100,000 people are in shelters, while others are hunkered down in their homes bracing for the storm's impact.
Widespread power outages
By noon on Sunday, more than 1.6 million customers were without power in Florida.
Governor vows to take care of Floridians
Gov. Scott said on This Week that "we're going to make sure every person in the state is taken care of to the extent we can. It's hard to do it during a storm, but as soon as that storm passes, our first responders will be out there doing everything they can to take care of every person in the state."
Scott said President Donald Trump has "offered every resource there is of the federal government."
"He said he'll be praying for us," Scott added.
Copyright © 2017, ABC Radio. All rights reserved.