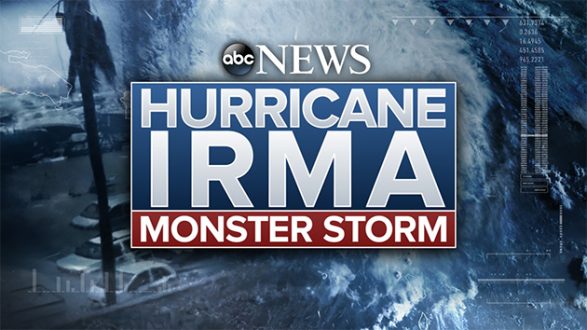 ABC News(TAMPA, Fla.) — Hurricane Irma, now a Category 1 storm with top sustained winds of 85 mph, was battering Orlando early Monday morning after lashing southern Florida and moving across the center of the state.
The storm's center was located near Lakeland, Florida, as of early Monday morning, moving north of Tampa and Orlando at a fast pace of 14 miles per hour.
More than 4 million people were without power in Florida and many towns and cities imposed curfews. Miami-Date police said early Monday they arrested 28 people for burglary/looting. Fort Lauderale police also said they arrested several looters.
Irma struck south Florida with powerful wind, rain and flooding, swamping parts of Naples and Miami on opposite coasts before moving north over the center of the state. A storm surge of 10 feet was recorded in the Florida Keys and Naples reported a 7-foot storm surge in at least one location, according to the National Weather Service.
Irma weakened to a Category 1 hurricane at around 2 a.m Monday as it's center and core moved over land, forecasters said, and it could be downgraded to a tropical storm by late Monday morning.
The National Hurricane Center (NHC) said it expected the storm's center to remain inland over Florida and then move into Georgia, Alabama and Tennessee where heavy rain and possible flash floods will be a major concern.
The NHC says the storm is still life-threatening with dangerous storm surge, wind and heavy rains. Storm surge warnings were in effect for parts of Florida, including North Miami Beach, the Florida Keys and Tampa Bay.
Latest satellite view of Irma. Irma's farthest south outer rain bands impacting the Keys at this time.

*Preliminary non-operational data pic.twitter.com/7LVTgGFxAf

— NWS Key West (@NWSKeyWest) September 11, 2017
At least five storm-related fatalities
At least five people died of storm-related injuries in Florida, including a sheriff's deputy, as the massive hurricane barreled across the Sunshine State with punishing wind gusts of up to 142 mph at it's height.
Two people were killed in Monroe County, which encompasses the Florida Keys. One person was found dead in a home in Shark Key, Florida on Sunday. Another man was killed after he lost control of a truck that carried a generator as winds whipped at tropical-storm strength, officials said.
Two other people, a sheriff's deputy and a corrections officer, died from a two-car crash in the rain in Hardee County, which is about 60 miles inland from Sarasota, officials said.
The fifth fatality was reported in Orange County, which is near Orlando, after a car crash that was deemed related to the hurricane. At least 27 people died in the Caribbean.
Joe Kiener, a Miami resident who's endured multiple hurricanes in the Caribbean, told ABC New that he had never experienced a storm as brutal as Irma.
"I live a little South of here but I've never seen anything like it," Kiener said. "I've been in Miami Beach for two years which is prone to flooding but this completely out of the norm."
One Naples resident told ABC News she was turned away from two shelters before she and her 10-year-old son were finally accepted at one.
"We have a dog and there were not that many shelters that accepted dogs," she said, adding, "We didn't want to be that far away from our home." While she and her son stay inside the shelter, her husband is hunkering down with their dog at home.
Assessing the damage
President Donald Trump approved a "major disaster" declaration in Florida on Sunday, authorizing "federal funding to flow directly to Floridians impacted by Hurricane Irma and reimburses local communities and the state government to aid in response and recovery from Hurricane Irma," state officials said.
Florida Gov. Rick Scott said nearly 30 states had deployed personnel and resourced to help out with the response and recovery of Hurricane Irma.
"Florida has received an incredible outpouring of support from other states in responding to Hurricane Irma," Scott said Sunday. "The strength and speed of these states' help has been instrumental in our planned response to Irma."
"The people of Florida are incredibly thankful for their selfless dedication. Together, we can withstand this storm and come back even stronger," he added.
State officials and the Florida National Guard will lead in the initial search and rescue missions following Hurricane Irma, but National Guard from other states and the active duty military are on stand-by to assist as well, officials said.
Monroe County Administrator Roman Gastesi said crews will begin house-to-house searches on Monday morning to search for residents in need of aid and assess the damage in areas like the Florida Keys, where Irma made landfall Sunday morning, officials said.
Gastesi said they were "prepared for the worst" and suspected that there may be some fatalities.
Copyright © 2017, ABC Radio. All rights reserved.