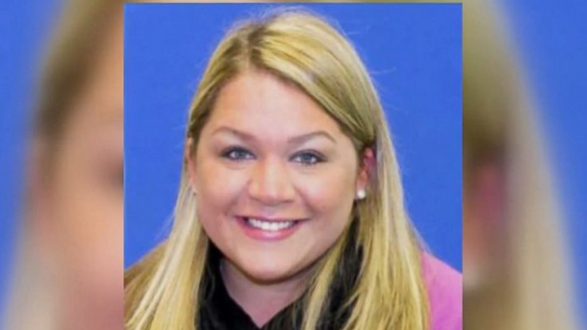 ABCNews.com(OLNEY, Md.) — A pregnant Maryland woman and lauded high school teacher vanished last week after she contacted relatives in a text message, authorities said.
The Montgomery County Police Department said in a news release that the family of Laura Wallen of Olney, Maryland, who is four months pregnant and was honored last year as "teacher of the year" by Wilde Lake High School in nearby Columbia, received the text on the morning of Sept. 4.
It's unclear what the message contained, and police did not respond to ABC News' request for comment.
Police believe it's the last reported contact with Wallen, 31, because she was absent on the first day of school, according to the news release.
"Laura, if you're listening, it doesn't matter what's happened, it doesn't matter what type of trouble, there's nothing we can't fix together, myself and your family," her boyfriend, Tyler Tessier, said through tears during a news conference.
Montgomery County investigators said they do not suspect foul play, but Tessier made a direct appeal to anybody who would harm his girlfriend and unborn child.
"If somebody has her, please understand you've taken away a huge, a huge person that's in so many lives," he said at the news conference, emphasizing that there wasn't anything strange in her behavior before she disappeared.
"I know what she means to me, and I know what she means to everybody else," he said. "We just want to know she's OK. We just want her back."
Laura Wallen's father, Mark Wallen, said at the news conference, "I wanted to let Laura know that we're out there looking for her and we're not giving up on her," and added that she had been "superexcited" about the school year.
He refused to believe something grim has befallen her.
"She is still alive somewhere," he said.
To help generate leads and secure her safe return, the family has offered a $25,000 reward, ABC's Washington, D.C., affiliate WJLA-TV reported.
Laura Wallen is 5 feet, 5 inches tall, weighs about 200 pounds and is blond, according to the Montgomery County Police news release.
Police confirmed in the release last week that they discovered her 2011 black Ford Escape parked in a gated apartment complex almost directly across a highway from Wilde Lake High School.
But so far, the police release said, "Laura Wallen has not been located."
Copyright © 2017, ABC Radio. All rights reserved.