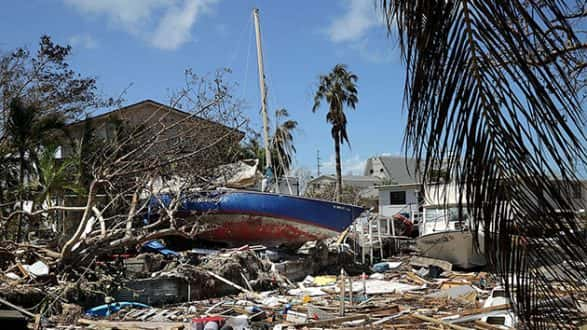 Chip Somodevilla/Getty Images(KEY LARGO, Fla.) — Residents of the Florida Keys are returning to a much different landscape than the one they left last week. Three days after Hurricane Irma rumbled through the region, residents are coping with the aftermath.
According to the Federal Emergency Management Agency, 90 percent of homes in the Florida Keys suffered some damage. As many as 25 percent of all homes in the Florida Keys were destroyed, FEMA Administrator Brock Long said Tuesday evening. As many as 65 percent of homes suffered major damage.
Search and rescue teams are still going door to door in the hardest-hit areas of the Keys, including Big Pine Key and Cudjoe Key, where Irma came ashore. Monroe County Sheriff's Office Col. Lou Caputo told reporters Tuesday evening that they had found no additional deaths in the county.
He said they expected to cover about 90 percent of the hardest-hit areas in the Keys by Wednesday.
Monroe County officials on Tuesday night were quick to counter FEMA estimates, saying no official estimates of percentages or dollar amounts of damages had been done.
"Things look real damaged from the air, but when you clear the trees and all the debris, it's not much damage to the houses," Monroe County Commissioner Heather Carruthers said in a statement released by the county Tuesday night.
Residents are returning to their homes, with the Florida Department of Transportation saying all 42 bridges along U.S. 1 — the only road into and out of the Keys — have been inspected and cleared.
Amenities are another story, however. Monroe County officials said gas is "limited," and AT&T was working to restore cellphone service.
The Lower Keys are still completely without power, but the Florida Keys Electric Co-op, which provides service to the Upper Keys, said about 30 percent of the region does now have electricity.
Some areas, mostly in the Upper Keys, have water, but food and water distribution stations have been set up in Key West. Anyone who does have water is being asked to boil it before drinking or cooking.
"It's only been 48 hours after the storm hit, and it's absolutely remarkable what has been accomplished," Florida State Sen. Anitere Flores said on Tuesday's conference call.
The death toll in Florida now resides at 15, but only one of those came in Monroe County. A man driving a truck with a generator was killed in an accident during tropical storm winds just prior to Irma coming ashore.
Copyright © 2017, ABC Radio. All rights reserved.