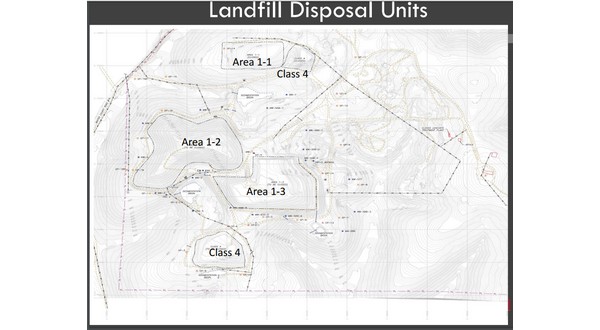 Almost five years since trash was last received at the NABORS landfill in northern Baxter County, work is underway placing closure turf at the site.Melinda Caldwell, Ozark Mountain Solid Waste District Executive Director, says the work underway at the landfill is a breath of fresh air after what has been a sad, negative story for a long time.
Caldwell says the closure work underway is in an area of the landfill identified as the Class 4 cell. The NABORS landfill has three other cells or disposal units.
Caldwell says the process underway involves the placement of a permanent cover, meaning no more trash will be placed there, and the area will be properly capped.
Once work is completed in the Class 4 area, the closure focus will shift to other areas of the landfill where there are overfill issues requiring waste to be moved among cells that have been prepared to receive it. With the overfill issues completed, the remaining three areas will also be capped.
With the installation of the closure turf completing the capping of all cells in the landfill, the 30-year monitoring and management begins. Caldwell says this phase will include monitoring leachate and methane production.
The closure process was originally estimated to be completed within one year. However, Caldwell says weather has slowed the process.
While it has been a long journey to reach the closure phase, Caldwell says there is a great partnership and collaboration among the Arkansas Department of Environmental Quality (ADEQ), the Solid Waste District, SCS Engineers of St. Louis, Consolidated Services and others.
NABORS landfill was originally permitted in 1979 and was owned by RLH until 2006. At that time, the landfill was purchased by the Northwest Arkansas Regional Solid Waste Management District, renamed the Ozark Mountain Solid Waste District in 2011. The last waste was received at the landfill in November 2012.
The Ozark Mountain Solid Waste District includes Baxter, Boone, Carroll, Marion, Newton and Searcy counties. The district's board of directors is comprised of each county judge and the mayors of all cities of the first class.
WebReadyTM Powered by WireReady® NSI