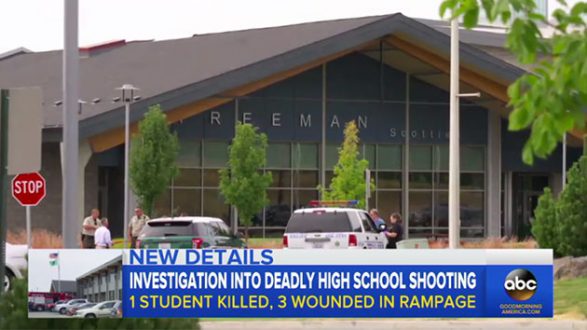 ABC News(ROCKFORD, Wash.) — A Washington State Patrol trooper called Wednesday the "worst day" in his law enforcement career after responding to his own children's school for an active shooter.
Trooper Jeff Sevigney tweeted hours after a high school student allegedly shot four classmates, killing one and wounding three, inside their school.
Worst day in my LE career.

To respond to your own kids school for active shooter.

Prayers for everyone involved. #FreemanHS

— Trooper J. Sevigney (@wspd4pio) September 14, 2017

Sevigney, a spokesman for Washington State Patrol, has been a state trooper since 1996, according to The Spokesman-Review. The newspaper reported that he was struck by a pickup truck while riding a motorcycle on duty in October 2016. The crash reportedly left Sevigney with a broken collarbone, and he returned to work more two months later.
He has not responded to ABC News' request for comment.
The shooting suspect, whom police have not identified publicly, was apprehended after the shooting at Freeman High School in Rockford, near Spokane. He is in custody at the Spokane County juvenile jail, authorities said.
The three wounded students were transported to a hospital and are expected to survive, authorities said.
One of the three injured students underwent surgery Wednesday and all three were in satisfactory condition Thursday morning, a hospital spokeswoman told ABC News.
The suspect brought multiple weapons to campus, Spokane County Sheriff Ozzie Knezovick said, and after he allegedly attempted to fire a jammed weapon, he moved on to the next one.
The student who was killed allegedly engaged with the suspect, Knezovick said, speculating that the deceased victim had tried to talk the suspect out of it.
The suspect then moved down a Freeman High School hallway, allegedly shooting and injuring three more students.
Knezovick said there were "conflicting stories," but it appeared as though a school employee was able to subdue the gunman until police arrived, calling the response "very courageous."
ABC Spokane affiliate KXLY-TV reported that a custodian ordered the suspect to surrender.
School is canceled Thursday in the aftermath of the tragedy. Tears were streaming down the faces of concerned parents as students left the building Wednesday, KXLY reported.
Parent Brandi Albert said, "I always thought this is such a great school, and you would never think that anything like this would ever happen here. But it can definitely happen anywhere."
Copyright © 2017, ABC Radio. All rights reserved.