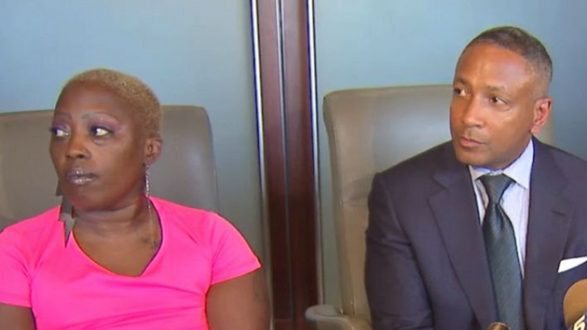 WLS-TV(CHICAGO) — The mother of the 19-year-old Chicago woman who was found dead in a hotel freezer on Sunday is demanding that the hotel release all of the video from the hours leading up to her daughter's disappearance.
Kenneka Jenkins was found dead in freezer at the Crowne Plaza Hotel in Rosemont, Illinois early Sunday. The attorneys representing Jenkins' family said in a press conference Friday that the hotel has only provided them "snippets" of video that show a "disoriented" young lady.
The family has "still not received the entirety of the video showing what happened," said Larry Rogers, Jr., one of the attorneys representing Jenkins' family.
The hotel has only provided about 30 to 40 minutes of video out of the 36 hours Jenkins was there, Rogers said.
The video shows a woman "who is clearly in need of some attention" and is "trying to find her way," he added.
Rogers addressed rumors that a video exists showing Jenkins walking to the freezer.
"I have absolutely not seen her walk into a freezer," Rogers said.
Jenkins' mother, Teresa Martin, said Friday that she "wants to know what happened" to her daughter. The attorneys said that they have not been given any information other than the 911 reports.
A spokesperson for the Rosemont Police Department told ABC Chicago station WLS-TV that they sent surveillance video to Martin and her attorneys electronically, and that they are welcome at the police station to review video and ask questions any time.
Earlier this week, Martin said she last saw Jenkins Sept. 8 at 11:30 p.m. when she left their Chicago home to go to a party with friends. The group was celebrating Jenkins' new position at a nursing home, Martin said.
Hours later, at 4:30 a.m., Jenkins' friends called Martin to tell her that Jenkins had disappeared after they briefly left her alone in the hotel hallway. Martin then rushed to the hotel to see if staff could check the cameras, she said.
Jenkins' body was discovered in an industrial size walk-in freezer in the basement of the hotel, Martin said. Police, who had access to the surveillance video, told her that Jenkins was intoxicated when she walked into the freezer. Police told her that "freak accidents do occur," she said.
Martin has said she suspects foul play.
"It takes strength to open these doors, the freezer doors," Martin said. "So, if she could hardly hold herself up, how did she find the strength to unlock both the double doors?"
Family of woman found dead in Rosemont hotel freezer looks for answers: https://t.co/ackiy33N3m pic.twitter.com/mptTpW6RW8

— ABC 7 Chicago (@ABC7Chicago) September 11, 2017
The Rosemont Police Department told ABC News that it is "actively investigating the case and attempting to locate and interview all parties involved."
"We are currently reviewing all footage, as well as reviewing all social media activity," the department told ABC News in a statement Tuesday.
The Crowne Plaza Chicago O'Hare Hotel and Conference Center has directed all questions about the case to police.
"We are saddened by this news, and our thoughts are with the young woman and her family during this difficult time," the hotel said in a statement. "The hotel staff will continue to cooperate fully with local authorities."
The autopsy test performed on Sunday came back inconclusive, the Chicago Tribune reported.
Copyright © 2017, ABC Radio. All rights reserved.