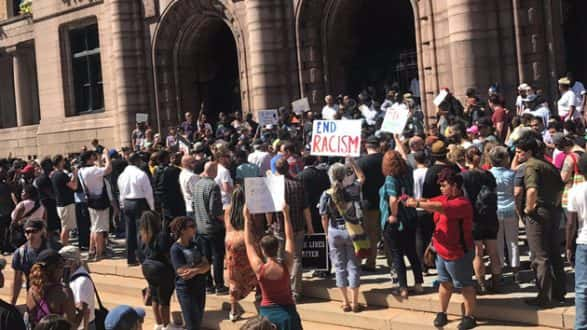 @mskellydutton/Twitter(ST. LOUIS) — As darkness fell in St. Louis and demonstrators gathered again in University City to protest the acquittal of a white police officer in the fatal shooting of a black man, officials said police are ready to respond to any incident.
"We will not tolerate violence," Police Chief Lawrence O'Toole said.
Violence that marred the mostly peaceful protests on Friday resulted in 11 police officers being injured and 33 people being arrested, officials said Saturday night.
O'Toole said the character of the demonstrations changed after darkness fell Friday, and the "agitators" outnumbered the peaceful demonstrators.
"The crowd became a mob. This mob was intent on destroying or damaging property, assaulting police officers and setting fires," he said.
Protesters in St. Louis Friday night blocked highways, damaged public and private property, broke windows, threw rocks at the mayor's house and threw bricks at police officers — who responded by dispersing tear gas — after Jason Stockley, a white former police officer, was found not guilty of first-degree murder and armed criminal action.
On Dec. 20, 2011, the then-police officer shot 24-year-old Lamar Smith five times after a high-speed chase and crash.
Hundreds of people were part of the massive protest, ABC St. Louis affiliate KDNL-TV reported.
Among the hundreds of people who turned out for the demonstrations on Saturday was rapper and actor Nick Cannon.
Well lookie who just walked up and joined the #Stockley protest. @NickCannon #stl #stlouis #AnthonyLamarSmith #STLVerdict pic.twitter.com/QhmRGdxxNi

— Anam Siddiq (@anamsiddiq) September 16, 2017
Copyright © 2017, ABC Radio. All rights reserved.