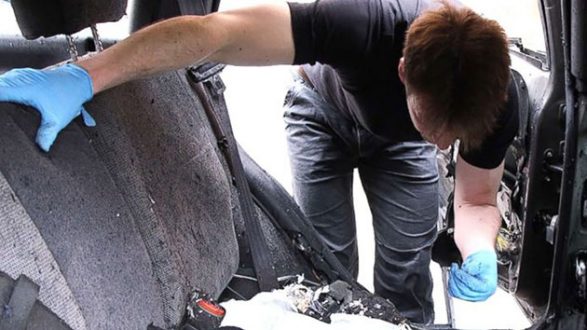 ABC News(NEW YORK) — FBI Special Agent Leo McFarland grew up in New York City in the shadow of 9/11 — a backdrop that inspired him to enter the high-stakes, high-risk world of criminal investigations.
Just a few months into his role at the FBI, he had his first experience with a bomb investigation when he responded to the September 2016 bombing in New York's Chelsea neighborhood.
"Our job is kind of to prepare for the worst," he told ABC News.
McFarland was one of the federal and local law enforcement officers taking part in the FBI's training course into the art and science of bomb investigations this past spring. Investigators from around the region gathered on Long Island for a weeklong course, taught by the FBI's elite bomb technicians, to learn specific techniques and investigative tools to respond to a suspected bombing or explosion.
"I think this type of work, now more than ever, is relevant," McFarland said. "With the prevalence of homegrown violent extremism — and throughout Europe we've seen this become more and more common — this is something that we do need to prepare for."
On Friday morning, an apparent bucket bomb exploded on a crowded London subway train, sending a fireball through the passenger car and injuring at least 29 people, officials said.
"The terrorists are showing they are taking every horrible action they can take to try to raise their visibility," said U.S. Department of Homeland Security Acting Sec. Elaine Duke on Friday.
Incidents such as this week's bombing in London, as well as the Manchester Arena attack earlier this year, the 2016 Chelsea bombing and the suicide bomb attacks in Iraq earlier this week, are all stark reminders of the necessity for trained investigators who can quickly get to the scene of an incident.
"The ease at which bombs can be made — the simplicity of it — leaves that weapon in the hands of anyone who wants to cause harm to innocent people," said Karen Cunningham, a special agent on the FBI's counterterrorism squad, who participated in the training course on Long Island.
When a bomb goes off, first responders have to be prepared to immediately secure the area, render it safe and search for any evidence that might lead to the bomber.
"Our jobs are to collect it, preserve it and make sure it can get to the technicians who can analyze it," Cunningham said.
Local police departments are often the first responders to a crime scene.
"These are the folks that are going to respond first, it's not the FBI — they're the ones that are going to respond. We need our public safety partners to be trained, to be able to solve these cases," said Pete Licata, an FBI special agent bomb technician and instructor.
Licata was one of the first bomb technicians to respond to the Chelsea bombing for the FBI.
"I used the skills that I acquired actually conducting these courses over my career. I took lessons learned from the training and applied them to the crime scene we ran at the Chelsea bombing," he said.
Investigating bombings is critical work that must been done carefully and quickly to prevent the next potential disaster, including a secondary explosion. Investigators use bits and pieces of evidence gathered at the scene of a blast to identify the bomb and potentially track down a suspect.
Explosive crime scenes are three-dimensional — a point that the instructors sought to drive home to the trainees during the course.
For example, during the Chelsea bombing, there was broken glass four to five stories up, according to the FBI.
"We have to look on roofs, we have to look under the street, we have to look under manhole covers. We have to think more than just linear and get out of that tunnel vision," said Licata.
Investigators need to think in a "360-degree view," he said.
Despite the destructive force of an explosion, there are always clues left behind.
"The misnomer is, in an explosive crime scene, things just vaporize. Nothing vaporizes. It may not be in its original state when it was bought off the shelf or before the device happened, but it is still there," Licata said.
Copyright © 2017, ABC Radio. All rights reserved.