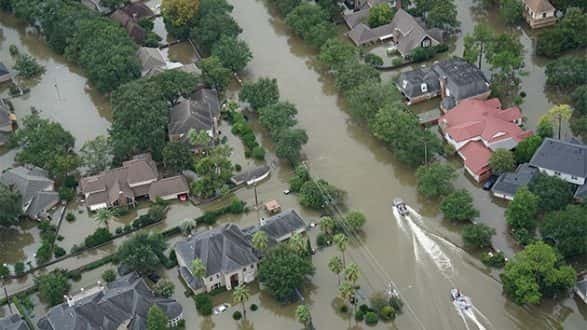 iStock/Thinkstock(NEW YORK) — In the wake of Hurricanes Harvey and Irma, the nation grieved as images of emerged of homes submerged up to the eves, abandoned pets perched on debris and household belongings molding on street curbs.
In the days that followed, tens of thousands appealed to the Federal Emergency Management Agency (FEMA) for money to rebuild — but the majority of Harvey's worst-hit families discovered that although they qualified for small assistance payments, they lacked the type of insurance coverage that would allow them to recoup what they'd lost in the floods.
As Texas and Florida struggle to navigate through a web of government agencies and charity organizations, we asked: What is FEMA flood insurance, who gets it, and why — and who's really footing the bill?
A Little History
Championed by President Lyndon B. Johnson, the National Flood Insurance Program, or NFIP, was created by the National Flood Insurance Act of 1968, after disillusioned private insurers abandoned the market when they realized flood insurance wasn't profitable.
According to Congressional analysts, NFIP policies "transfer some of the financial risk of property owners to the federal government" and, in return, requires flood-prone communities adhere to certain building codes and implement flood mitigation strategies.
Who's eligible for coverage?
Only those living in one of the nation's 22,000 "NFIP-participating communities" — neighborhoods at risk of significant flooding that have adopted flood mitigation strategies — can purchase NFIP policies from the government through their insurance agent.
Some property owners, especially those in high-risk areas, may be required to buy flood insurance, while others, usually those in moderate-risk locales, may be offered an optional policy. Premium rates, some of which are partially subsidized by the federal government, are based on the area's degree of risk and the property construction and elevation.
Who Pays, and How Much?
Though NFIP collects about $3.5 billion in premiums annually, the program is nearly $25 billion in debt, according to reports from the Government Accountability Office and Congressional Research Service. It accrued the bulk of this debt in the wake of the 2005 hurricane season, following Hurricanes Katrina, Rita, and Wilma, and after Superstorm Sandy in 2012, both agencies note.
"Whether or not FEMA will ultimately be able to pay off the debt is largely dependent on future insurance claims, namely if catastrophic flooding incidents such as Hurricanes Sandy or Katrina occur again and with what frequency," congressional analysts wrote in a report released in July — just one month before Harvey made landfall.
Its solvency in question, the program has endured criticism from groups like the National Resources Defense Counsel, which claim the NFIP has wasted money repeatedly rebuilding vulnerable homes when it would have been cheaper to help homeowners move to higher ground. It's also drawn flack over its policy of "grandfathering," or allowing property owners to pay premiums based on outdated flood maps.
The good news, financially speaking is that according to FEMA, the building codes and flood mitigation strategies implemented because of the program save the nation $1.87 billion each year.
Who's in charge?
NFIP is run by FEMA, but must be reauthorized by Congress every five years.
Along with a host of other federal government programs, the current authorization, passed in 2012, was set to expire at the end of September. But H.R. 601, the continuing resolution passed last week, extended that authorization through December 8.
After that date, key authorities of the NFIP — such as the authority to issue new contracts, and the ability to borrow large sums from the U.S. Treasury — will lapse, and it will be up to lawmakers to ensure the program's future.
What it's not
Many flood victims confuse FEMA flood insurance payments and FEMA assistance.
Unlike flood insurance, FEMA assistance doesn't require recipients to purchase a policy before catastrophe strikes — it's simply handed out to disaster victims to cover critical expenses like food and temporary lodging. However, assistance isn't meant to restore properties to their pre-disaster state. FEMA assistance payments are capped at just over $33,000 maximum per household — and the actual payout is generally much lower than that.
"FEMA assistance is really only designed to be a life-vest, it's not designed to be an insurance policy," a former FEMA official told ABC News.
For example, assistance payments won't pay to replace your house — or, in some cases, even refinish damaged drywall in unused bedrooms.
FEMA flood insurance, by contrast, is designed to make victims whole, financially — and because it's partially funded by premiums, the payouts are much, much higher. Following Hurricane Katrina, for example, the average assistance payment was around $6,300, according to FEMA. The average NFIP payment? More than $97,000.
ABC News' Ali Rogin contributed to this report.
Copyright © 2017, ABC Radio. All rights reserved.