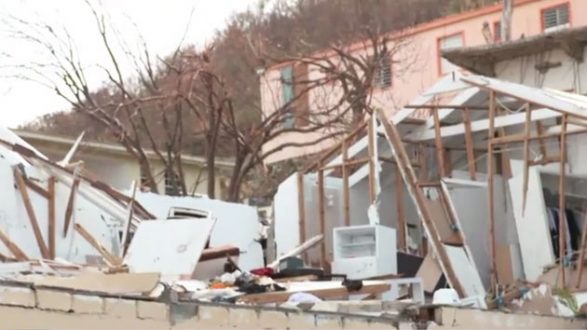 ABC News(NEW YORK) — Maria, now a Category 1 hurricane, is expected to become a "dangerous major hurricane" over the U.S. Virgin Islands and Puerto Rico by the middle of the week as a separate hurricane heads for the Northeast Coast, the National Hurricane Center (NHC) said Monday.
Maria was churning in the Atlantic Ocean, located about 90 miles northeast of Barbados as of early Monday morning with maximum sustained winds of 90 miles per hour, according to the NHC, which expects it to become a major hurricane when it reaches the Leeward Islands over the next few days.
The storm is forecast to rapidly intensify to a Category 4 hurricane as it approaches Puerto Rico late Wednesday morning.
Hurricane conditions could begin to affect parts of the Leeward Islands by Monday night, with storm surge raising water levels by 4 to 6 feet near the storm's eye. The storm is forecast to bring between 6 an 12 inches of rain across the islands, with more expected in some isolated spots.
"Maria is likely to strengthen significantly, and is expected to be at major hurricane intensity when it affects portions of the Leeward Islands over the next few days, bringing dangerous wind, storm surge and rainfall hazards," the NHC said.
"Maria is likely to affect the British and U.S. Virgin Islands and Puerto Rico by mid-week as a dangerous major hurricane," the center said, adding that Maria could bring torrential rains that could lead to deadly flash flooding and mudslides.
The center issued hurricane watches for the U.S. and British Virgin Islands — including Guadeloupe, Dominica, St. Kitts, Nevis, Montserrat and Martinique — as well as for Puerto Rico and the Leeward Islands were under a hurricane warning. Meanwhile, a tropical storm warning is in effect for Antigua and Barbuda, Saba, St. Eustatius and St. Lucia.
Maria is expected to graze the Dominican Republic before it moves more north toward Turks and Caicos and eventually into Atlantic Ocean.
Just one of three storms percolating in the Atlantic Ocean, Maria poses the most danger to the already-devastated Caribbean Islands, where Hurricane Irma killed more than 40 people earlier this month.
Separately, Jose, a Category 1 hurricane, was located about 280 miles southeast of Cape Hatteras, North Carolina, as of early Monday, and moving north with winds of 85 miles per hour, according to the NHC.
Jose is forecast to move north through Wednesday morning, threatening to bring strong winds, heavy rain and coastal flooding some parts of the Northeast, meteorologists said. A Tropical Storm Watch is in effect from Delaware to Massachusetts.
Rainfall could be the heaviest in southern New England, which is forecast to receive as much as a half a foot of rain, and the storm could bring strong wind gusts of more than 50 miles per hour along the New Jersey coast and into Long Island, meteorologists said.
Copyright © 2017, ABC Radio. All rights reserved.