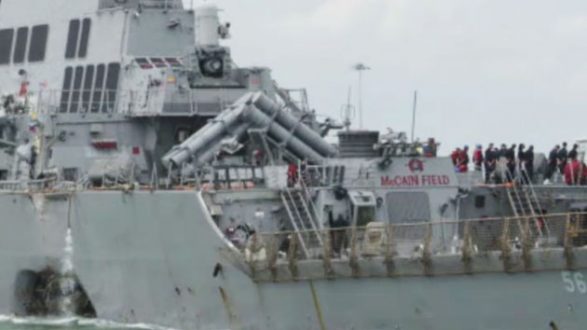 ABC News(WASHINGTON) — The U.S. Navy has relieved two more top officers due to a "loss of confidence in their ability to command," following two deadly collisions over the summer.
The destroyer USS Fitzgerald collided with a cargo ship in the Sea of Japan in June, killing seven sailors. In August, the USS McCain, another destroyer, collided with an oil tanker off the coast of Singapore, killing 10 more sailors.
On Monday, Vice Adm. Phil Sawyer, the commander of the 7th Fleet, relieved the commander of Task Force 70 (CTF 70), Rear Adm. Charles William, and the commander of Destroyer Squadron (DESRON) 15, Capt. Jeffrey Bennett. While the Navy's press release announcing the leadership changes did not directly mention the incidents from the summer, both officials relieved of their duties were in the Fitzgerald and McCain's chain of command.
"Rear Adm. Marc Dalton, commander of Task Force 76 (CTF 76), assumed duties as commander, CTF 70. Capt. Jonathan Duffy, deputy commander, DESRON 15, assumed duties as commander," the Navy said.
The Navy relieved the three-star admiral in charge of the 7th Fleet, Vice. Adm. Joseph Aucoin, following the McCain's collision. Aucoin was slated to retire in September and turn over command of the 7th Fleet to Rear Adm. Phil Sawyer, but his relief showed the Navy's focus on accountability in the wake of mishaps.
In addition to the collisions by the Fitzgerald and McCain, the USS Lake Champlain, a guided-missile cruiser, collided with a fishing boat in the Sea of Japan in May. There were no injuries.
In February, the USS Antietam, also a guided-missile cruiser, ran aground off the coast of Japan, damaging its propellers and spilling oil into the water.
On Tuesday, Secretary of Navy Richard Spencer and Chief of Naval Operations Adm. John Richardson will testify before the Senate Armed Services Committee about the recent Naval incidents.
Joining the top Navy leaders will be John Pendleton, director of Defense Force Structure and Readiness Issues at the Government Accountability Office (GAO), which issued a report highlighting the Navy's readiness issues.
"GAO's prior work shows that the Navy has increased deployment lengths, shortened training periods, and reduced or deferred maintenance to meet high operational demands, which has resulted in declining ship conditions and a worsening trend in overall readiness," the report said. "The Navy has stated that high demand for presence has put pressure on a fleet that is stretched thin across the globe."
Copyright © 2017, ABC Radio. All rights reserved