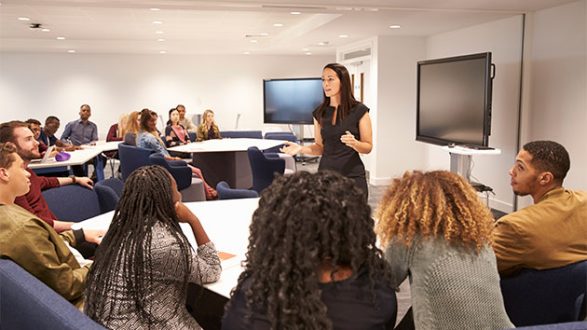 iStock/Thinkstock(NEW YORK) — The days of Latanya Simpson being a shy and timid student are a thing of the past.
"My 9th grade year I was kind of not sure of myself," Simpson said. "I didn't have the confidence I really needed."
Simpson, 19, started to believe in herself after taking a humanities class at Codman Academy Charter Public School in Boston with her teacher, Sydney Chaffee. Simpson said having Sydney as her teacher was "the best thing" that could have happened to her.
"She made learning fun. I felt comfortable raising my hands, asking questions, and Sydney would stop in the middle of teaching just to reteach and go over whatever questions any student had," said Simpson.
Chaffee, 34, is the 2017 national teacher of the year and has been an educator for the past 10 years. She said she finds it amusing to hear that Simpson wasn't confident because she "was a star" during the class.
"She got on stage and had so much confidence and she had such presence and such a voice," said Chaffee. "When you see students step into who they're able to be, and you see students step into their own confidence and step into their own voice, that reminds me of how powerful the job is."
Simpson is now a sophomore at Providence College in Rhode Island.
She said the confidence she gained from Sydney's class is helping her speak up in packed lecture halls and mentoring new students on campus.
Copyright © 2017, ABC Radio. All rights reserved.