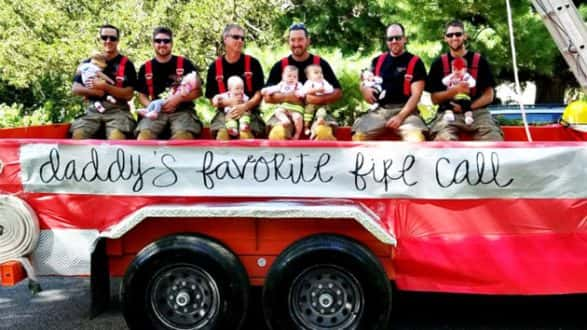 Courtesy Jada Hermann(KELLOGG, Minn.) — The Kellogg Fire Department in Minnesota experienced a baby boom this year when six of its 30 firefighters welcomed seven babies over the span of five months.
"We don't know if there was something in the water or what," volunteer firefighter Ben VanLoon told ABC News. "It was like, 'Whoa, another one! Whoa, another one!'"
The fire department's baby boom kicked off with his daughter, Brielle, who was born on Feb. 9.
"Everyone came over and supported us and told us what to do and what we're going to expect," said VanLoon, 30, a first-time dad. "Being on the fire department and being around these guys, it's almost soothing, I guess, that they can help you get through this."
Tim Hermann's daughter, Harper, was the last of the seven babies to be born when she arrived on July 13. Hermann recalled the fire department's holiday party in December as the moment it sunk in that a baby boom was underway.
"All of our wives were sipping their waters and sodas and we were sipping our beers going, 'Oh boy,'" Hermann said. "That was when we all kind of went, 'Oh yeah, this is really happening.'"
The firefighters' spouses threw baby showers for each other and showed up to help as each woman gave birth. It was all-hands-on-deck after the wife of veteran firefighter Tim McDonough gave birth to twins in February.
"We were there pitching in, especially when Tim had to go back to work," said Tara Tentis, who welcomed a daughter, Hailey, in April with her husband, firefighter Seth Tentis.
"It's a family within a family and a small town where everyone is truly out to help," she added.
The seven babies are sure to make their mark on Kellogg, a city with a population of only 469, according to the city's website.
"The class when they go through school is just going to be amazing. It's going to be a heck of a grade," said Tara Tentis. "They'll be like one-fifth of their graduating class."
The new fathers, who are all longtime friends, are a combination of first-time dads, like Vanloon and Hermann, and veterans, like McDonough, who now has five kids. They said they bring the babies together for play dates and talk about parenting at the firehouse.
As far as the best parenting advice they have learned from their fellow firefighters, the two first-time dads were in agreement.
"Patience is key," VanLoon said. "For me, going into it as a new dad and not knowing what to expect, everyone can tell you but you just don't know until it happens."
"Just keeping patient," Hermann said. "And knowing that the baby is number one. We're on the back burner and that's okay."
Copyright © 2017, ABC Radio. All rights reserved.