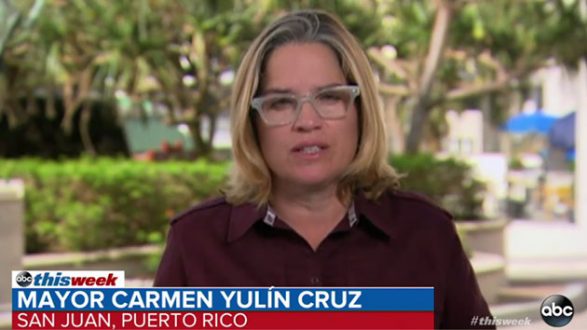 ABC News(SAN JUAN, Puerto Rico) — The mayor of San Juan, Puerto Rico, whom President Donald Trump slammed on Twitter for "poor leadership," said she would meet with the president when he visits the island Tuesday if she is invited to do so.
Mayor Carmen Yulín Cruz also told ABC News Chief Anchor George Stephanopoulos on This Week that with the devastation wrought by Hurricane Maria, the focus should be on "saving lives" and not the U.S. territory's high rate of debt or what it may cost to rebuild.
"Let us not talk about the debt; let us not talk about the cost of reconstruction. Let's just talk about saving lives right now," Cruz told Stephanopoulos. "You put the people above the debt. People's lives and avoiding death above the debt. That's just how it's done."
Trump tweeted several days after the hurricane hit Puerto Rico on Sept. 20 that the territory is in "deep trouble," unlike the storm-battered states of Florida and Texas, which he said "are doing great."
Texas & Florida are doing great but Puerto Rico, which was already suffering from broken infrastructure & massive debt, is in deep trouble..

— Donald J. Trump (@realDonaldTrump) September 26, 2017
Cruz has been outspoken in asking for more federal aid to Puerto Rico. Trump on Saturday blasted her and those in the territory, whom he said "want everything to be done for them."
…Such poor leadership ability by the Mayor of San Juan, and others in Puerto Rico, who are not able to get their workers to help. They….

— Donald J. Trump (@realDonaldTrump) September 30, 2017
…want everything to be done for them when it should be a community effort. 10,000 Federal workers now on Island doing a fantastic job.

— Donald J. Trump (@realDonaldTrump) September 30, 2017
Cruz told Stephanopoulos on Sunday she would still meet Trump.
"If he asks to meet with me, of course I will meet with him," she said.
The mayor said the problem in the relief effort to Puerto Rico is not with the staff of the Federal Emergency Management Agency or other federal agencies working to help the island, but with a lack of sufficient resources.
"I've been quite complimentary of the people from [the Health and Human Services Department] and FEMA," Cruz said. "Their heart is in the right place, but we have to cut the red tape. … Things have to be done in a sustained manner."
FEMA Administrator Brock Long, also on This Week Sunday, responded to the mayor's criticisms of the relief effort.
He suggested that Cruz wasn't working closely enough with federal responders.
"We tried to embed staff with the mayor," Long said. "If you aren't connected into that joint field office, you don't understand [the] commander's intent; you don't understand the successes of what's been done vs. what needs to be done, where the gaps are."
Copyright © 2017, ABC Radio. All rights reserved.