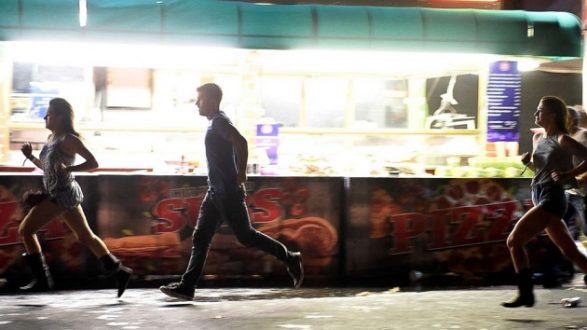 Ethan Miller/Getty Images(LAS VEGAS) — Concertgoer Brian Claypool feared for his life Sunday when a gunman opened fire during the final night of the Route 91 Harvest Music Festival in Las Vegas, saying he "didn't want to die."
Country music artist Jason Aldean was performing when the gunfire erupted, Claypool said, causing everyone to panic.
"It was pretty eerie because Jason [Aldean] kind of hesitated in his song and I'm thinking, 'Wow, he's pretty worried about something' and then all of a sudden we heard the shots and then I saw him drop his guitar," Claypool told ABC News today.
Claypool said he was sitting in a VIP area near the near the stage when he heard gunshots and began to run.
He was among the many concertgoers who were forced to run for their lives late Sunday when the shooter opened fire on the large crowd, killing more than 50 people and injuring more than 200.
"The shots went on for, it seemed like 10 to 15 seconds, and then there was a break," he said, describing the first burst of gunfire.
He said police officials ordered him to seek shelter in a small room with about six young girls who were all crying hysterically.
"I didn't want to die inside of this little room with these girls," Claypool said. "I rallied everybody out of that room to run north to get away from the shots."
Claypool said he saw two people get shot down and spoke to other witnesses who said they watched their friends die.
"It was chaos everywhere" and it was hard to figure out where to run, he said.
Social media video showed witnesses scrambling to flee the scene as shots rang out. Some people were seen crouching on the ground, stumbling over each other, as others attempted to run.
Claypool said he was able to make it out without physical harm, but added that the images of the terrifying scene will stay with him forever.
"I'm telling you, your life was flashing in front of you," he said. "The feeling you get is complete helplessness."
Copyright © 2017, ABC Radio. All rights reserved.