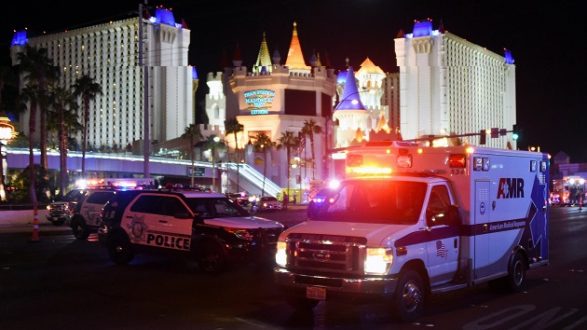 Ethan Miller/Getty Images(LAS VEGAS) –The man suspected of opening fire perched high up in the Mandalay Bay Resort and Casino in Las Vegas Sunday night, killing more than 50 people and injuring more than 200, has been identified as 64-year-old Stephen Paddock, according to police.
Cops responded to the scene Sunday night and breached the door to the suspect's room. He is now dead. Officials said they did not believe there were any more shooters.
Police said the gunman was believed to be a local resident. The motive was unclear.
Many of the witnesses were attending the final night of a country music concert — the Route 91 Harvest Music Festival — which was taking place across the street from Mandalay Bay at the time of the shooting.
Witnesses described the shooting as "nonstop gunfire."
One video showed the terrifying aftermath as the injured lay on stretchers or on the ground with responders and bystanders surrounding them to give aid. Bystanders made makeshift stretchers out of police barricades, plugged wounds with their hands and used their clothing to try to stanch the bleeding from the wounded.
Copyright © 2017, ABC Radio. All rights reserved.