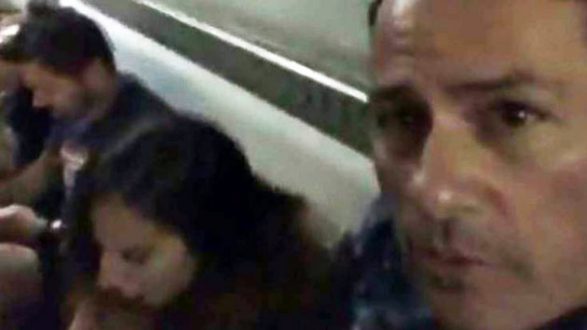 Credit: Bryan Hopkins(LAS VEGAS) — As gunfire erupted at Sunday's Route 91 Harvest Festival, musician Bryan Hopkins led a group into a freezer for safety.
Hopkins, who is the lead singer for group Elvis Monroe, took over 20 people into a freezer near the venue. Hopkins filmed himself during the shooting, still unsure of what the chaos was going on outside in the venue.
"We're not sure what's going on out there," said Hopkins. "We're in this icicle room right now. Some sort of shooting or something at the Jason Aldean concert."
People can be heard on the video discussing whether to stay inside the freezer, with others peeking out the front door.
Aldean was performing when the shooting began. When it was over, at least 59 people were dead and over 500 more were injured. It is the deadliest shooting in modern U.S. history. Police have named 64-year-old Stephen Paddock as the shooter, saying he opened fire from across the street on the 32nd floor of the Mandalay Bay Hotel and Casino.
The members of Elvis Monroe live in Las Vegas and perform regularly in the city.
Copyright © 2017, ABC Radio. All rights reserved.