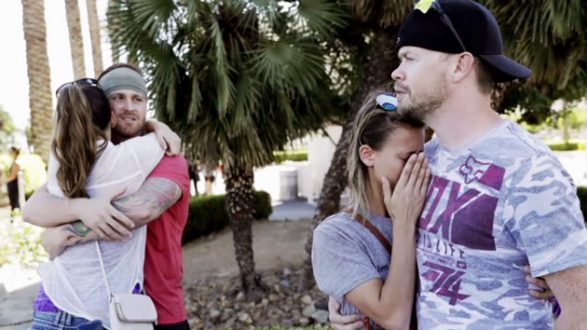 ABCNews.com(LAS VEGAS) — Police were trying to piece together information about the assailant in the Las Vegas massacre on Tuesday as authorities scoured the suspected shooter's home for clues on what may have sparked the deadly rampage.
Stephen Paddock, a 64-year-old resident of Mesquite, Nevada, is accused by police of opening fire on the crowd at a music festival from the 32nd floor of the Mandalay Bay Resort and Casino on Sunday night, killing at least 59 people and injuring at least 527 others in what is the worst mass shooting in American history.
Terrified country music fans ducked and ran, while some sprang into action as the shooter launched a barrage of gunfire on a crowd concertgoers during the Route 91 Harvest Music Festival.
Family and friends took to social media to honor loved ones who were killed in the attack and, in a few cases, search frantically for news about relatives who had still not returned home.
Meanwhile, the motive behind the shooting remains unclear.
The Las Vegas Police Department said authorities responded to a room on the 32nd floor of the hotel, where Paddock was found dead. Police said they believe Paddock killed himself prior to police entry.
Todd Fasulo, assistant sheriff for Las Vegas Metropolitan Police Department, said detectives were working to piece together the suspect's movements "in chronological order" and will release that information when they can confirm its accuracy.
"Our homicide detectives are working around the clock to process the scene as soon as the possibly can," Fasulo said at a press briefing late Monday night. "We're hunting down and tracing down every single clue that we can get in his background."
Paddock is believed to have been solely responsible for the attack, according to Fasulo, who knocked down rumors that there may have been additional assailants.

Arsenal found in shooter's hotel suite
Paddock checked into the Mandalay Bay Thursday and brought the numerous firearms found in his room with him, police said Monday.
Police said they found at least 23 handguns and rifles, some with scopes, in Paddock's hotel suite, along with a computer and several pieces of media. He is believed to have used multiple rifles in the attack, police said.
Ammunition and more than 10 suitcases were found in the room, Lombardo said. At one point, Paddock engaged with a security guard, who was shot in the leg through a doorway, police said.
In addition to the weapons discovered at the hotel, authorities said they found "several" pounds of ammonium nitrate, a material used to make explosives, inside of Paddock's car. They also found 19 additional firearms, explosive material and some 1,000 rounds of ammunition at his home in Mesquite.
Chris Michel, owner of Dixie GunWorx, in St. George, Utah, told ABC affiliate KTVX on Monday that he recalled selling Paddock a shotgun earlier this year.
"He talked about how he just moved closer to where we are," Michel said of Paddock. "He said he was visiting local firearms shops."
A representative for Guns & Guitars, Inc. also told ABC News Paddock that was a customer and purchased had firearms legally.
Police scour the suspect's background
Paddock's family described him as multimillionaire who had recently won a $40,000 jackpot and previously worked for a predecessor company of Lockheed.
Officials said he had no criminal history, save for a minor citation, and appeared to fly under the radar.
"We checked the federal and local databases and state databases," said Sheriff Joseph Lombardo, the head of the Las Vegas Metropolitan Police Department. "We had no knowledge of this individual."
Eric Paddock, the suspect's brother, told ABC News on Monday that the family was "dumbstruck" by the news of the attack.
"We have no idea how or why this happened," Eric Paddock said. "As far as we know, Steve was perfectly fine."
He said his brother was not a man of strong political convictions.
"Steve had nothing to do with any political organization, religious organization, no white supremacist, nothing," Eric Paddock said.
Eric Paddock said their father was convicted in 1961 of committing a series of bank robberies and spent several year's on the FBI's "Ten Most Wanted Fugitive" list.
Police are working to connect with Paddock's girlfriend, Marilou Danley, 62 — who appears to have lived with him in Mesquite and once worked as a casino hostess for high-end players — with hopes that she will provide some insight about the shooting.
Danley is currently believed to be in the Philippines and is expected to return to the U.S. soon. According to multiple law enforcement sources, however, Paddock has sent tens of thousands of dollars to someone in the Philippines in recent months.

Honoring the victims
Las Vegas Mayor Carolyn Goodman held a vigil on steps of City Hall with faith and city leader in honor of the victims of the deadly shooting.
"The act and insanity of a madman shall not define us or keep us from living whole and meaningful lives with pride in our shared humanity," Goodman said in a statement Monday. "Our prayers for everyone and a huge thank you to our great law enforcement and first responders."
Goodman thanked the first responders and bystanders who rushed into action to help save lives. She said the city had a broken heart, but will not be "tarnished by this one sick, horrible human being."
Several Las Vegas hotel operators have offered free stays at their properties for victims of the Mandalay Bay mass shooting and their family members.
School administrators, nurses, veterans and local business owners were among the those killed in the horrific attack, according to records compiled by ABC News. ABC has confirmed the following 17 victims of the attack: Heather Alvarado, Denise Burditus, Carrie Barnette, Baily Schweitzer, Dorene Anderson, Neysa Tonks, Jennifer Parks, Chris Roybal, Hannah Ahlers, Jordan McIldoon, Angela Gomez, Lisa Romero, Rachel Parker, Susan Smith, Sonny Melton, Dana Gardner, Sandy Casey.
Copyright © 2017, ABC Radio. All rights reserved.