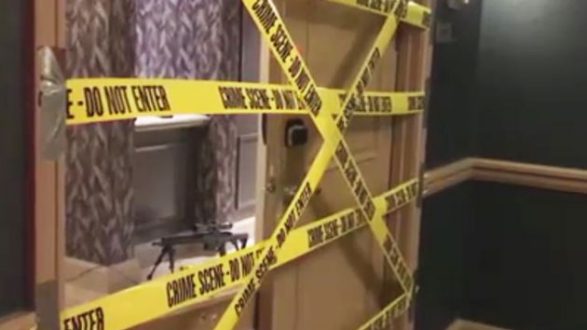 ABCNews.com(LAS VEGAS) — Here's the latest on the investigation into the Las Vegas shooting:
At least 59 people, including the shooter, died after Sunday night's attack at a Las Vegas music festival.
The motive remains unknown but police say the deadly assault was "obviously premeditated."
Suspected gunman Stephen Paddock was seen gambling for eight hours straight on the night before the shooting.
Paddock had been reportedly stockpiling firearms since 1982.
Authorities say they have recovered 47 firearms from three different locations so far.
Paddock's girlfriend has returned to the United States from the Philippines.
Meticulous planning preceded 'premeditated' shooting
As investigators delve deeper into how Sunday night's massacre in Las Vegas unfolded, chilling news details have emerged about the suspected gunman and how he allegedly carried out the deadliest mass shooting in modern U.S. history.
Authorities say Stephen Paddock, a 64-year-old resident of Mesquite, Nevada, opened fire on a music festival crowd from the 32nd floor of the Mandalay Bay Resort and Casino, killing 58 people and injuring 530 others. The shooting lasted between nine and 11 minutes, with the first reports of gunshots beginning Sunday at 10:08 p.m. PT and the final shots being fired at 10:19 p.m.
Paddock is believed to have been solely responsible for the attack, according to police.
Paddock checked into the Mandalay Bay Resort and Casino Sept. 28, bringing with him 10 bags and at least 23 guns, including high-powered rifles. He set up surveillance cameras inside and outside of his two-room suite. There was one camera on a room service cart in the hallway, police said.
One official said Paddock also had a camera mounted in the room, apparently to record himself.
Paddock was shuttered inside his suite for three days at the giant hotel-casino, perched high above from where the Route 91 Harvest Festival was taking place across the street. Room service was provided at some point during his stay.
Investigators believe Paddock used a device similar to a hammer to smash the windows in his room before he allegedly opened fire on the music festival crowd Sunday night, shortly after a rendition of "God Bless America."
Police responded to the hotel room, where Paddock was found dead. He is believed to have killed himself prior to police entry.
Law enforcement sources told ABC News that Paddock utilized at least one camera outside the room possibly to monitor approaching authorities.
"I anticipate he was looking for anybody coming to take him into custody," Clark County Sheriff Joseph Lombardo said at a news conference Tuesday.
Lombardo said authorities are reviewing police body cameras.
While the motive behind the deadly rampage remains unclear, Lombardo said the attack was "obviously premeditated" and the shooter "evaluated everything he did."
ABC News has obtained images from inside Paddock's hotel room. A body is partially visibly in one of the photos, which is believed to be Paddock.
The images also show rifles and bullet shells scattered across the floor, with high-capacity magazines stacked like bricks in a corner.
An employee at the Mandalay Bay Resort and Casino told ABC News she spent a total of 16 hours serving Paddock in the casino during her shifts there over the weekend. She said she watched the man gamble for eight hours straight, from Saturday night into Sunday morning.
He played high-stakes video poker on machines located in a separate, "exclusive" section of the casino, she said.
As soon as she saw Paddock's picture on the news, identifying him as the suspected gunman, the casino employee said she knew it was the same man who had been her customer the night before the shooting.
A 'plethora' of guns and ammo
Authorities have executed search warrants at three locations as well as for Paddock's vehicle parked at the Mandalay Bay Resort and Casino.
In addition to the 23 guns recovered from Paddock's hotel room, which police said were purchased in Nevada, California, Utah and Texas, authorities also found a computer and several pieces of media there. Law enforcement sources said multiple loaded high-capacity magazines and a modified bump stock rifle, which allows a gun to stimulate rapid automatic gunfire, were discovered in the room as well.
Investigators are still in the process of examining the firearms to determine whether they were capable of firing automatically.
Meanwhile, material used to make explosives was found inside Paddock's car. Explosive material and 19 additional firearms were discovered at Paddock's home in a Mesquite retirement community.
Five handguns, two shotguns, numerous electronics and a "plethora of ammunition" were also found at his property in Reno, according to Lombardo.
Jill Snyder, special agent in charge at the U.S. Bureau of Alcohol, Tobacco, Firearms and Explosives, told "CBS This Morning" in an interview this morning that Paddock had been stockpiling firearms since 1982. He bought nearly 50 guns legally, Snyder said, but none of those purchases set off any red flags for ATF.
"From October 2016 to Sept. 28, 2017, he purchased 33 firearms, majority of them rifles," Snyder said. "We wouldn't get notified of the purchases of the rifles, we would only get notified if there was a multiple sale, which would be two or more handguns in an individual purchase."
Suspect's girlfriend arrives back in US

Investigators say Paddock's girlfriend, Marilou Danley, who lived with him at his home in Mesquite, is more than a mere witness.
"Currently she's a person of interest," Lombardo said at a news conference Tuesday.
Danley, 62, returned to the United States from the Philippines Tuesday night. The Filipino-born woman landed at Los Angeles International Airport at 7:17 p.m. PT on Philippine Air Flight 102.
She was taken out a back way so she wouldn't be seen in public, and FBI agents met her immediately upon landing, multiple law enforcement sources told ABC News.
While agents met Danley upon landing, she is not officially in custody and is free to go where she pleases. Investigators hope she can shed some light on the motivation behind Paddock's alleged massacre over the weekend.
In an interview with ABC News today, Danley's elder brother said he immediately contacted his sister when he saw the news that her boyfriend was allegedly behind the deadliest mass shooting in modern U.S. history.
"I called her up immediately and she said, 'Relax, we shouldn't worry about it. I'll fix it. Do not panic. I have a clean conscience,'" Reynaldo Bustos said in his native Tagalog language today outside the capital of Manila in their homeland.
Copyright © 2017, ABC Radio. All rights reserved.