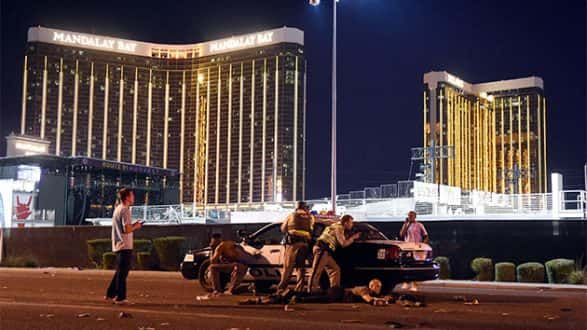 David Becker/Getty Images(LAS VEGAS)– An unarmed security guard at Las Vegas' Mandalay Bay Resort and Casino found gunman Stephen Paddock and drew the shooter's attention away from the crowd of concertgoers below while radioing police for help.
The security guard was identified as Jesus Campos by the International Union, Security, Police and Fire Professionals of America. He was injured after Paddock fired at him through a door, striking Campos in the leg, police said.
Campos provided information over the phone that helped authorities locate the 32nd-floor room that Paddock was firing from, a spokesperson for the union said.
Campos was on "random patrol" as a security officer at the hotel when he found the shooter, said Liliana Rodriguez, who identified herself as a coworker of Campos' at Mandalay Bay on a GoFundMe page she set up for him.
"Any one of us could have been in the position he was in," Rodriguez wrote. "Most importantly we are a home away from home and at the end of the day we are a team and we should all go home together."
Campos was unarmed when he engaged with Paddock, the union spokesperson confirmed, which was first reported by The Daily Beast.
On Sunday, about 22,000 concertgoers were attending the final night of the Route 91 Harvest Festival on the Las Vegas Strip, across the street from the Mandalay Bay hotel, when Paddock began his deadly assault.
It took authorities just minutes to locate where the bullets were coming from after the attack rang out. Once police breached the door to Paddock's suite on the 32nd floor of the hotel, they found him dead of an apparent self-inflicted gunshot wound.
A total of 58 people were killed and more than 500 injured in the attack. A motive is still not known, but police said the shooting was "obviously premeditated."
Copyright © 2017, ABC Radio. All rights reserved.