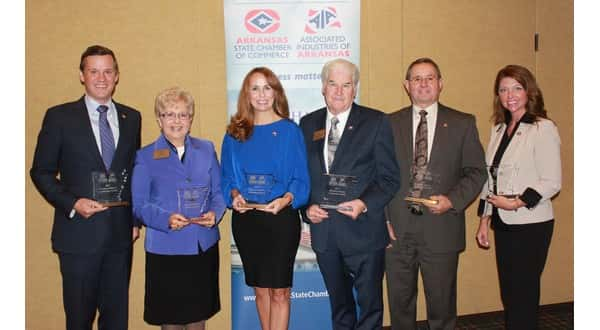 Local Senators and State Representatives were recognized by the Arkansas State Chamber of Commerce and the Mountain Home Chamber of Commerce Monday for their support of business legislation in 2017. The luncheon, held at Big Creek Golf and Country Club, covered items on the State Chamber's agenda for business members across Arkansas and highlighted key pieces of legislation the chamber says will support economic growth.Randy Zook, President and Chief Executive Officer of the chamber, says the event is a way to thank legislators for their votes on certain bills the chamber has sponsored and others bills considered to be business friendly.
Zook says the list of key issues for 2017 is extensive.

Listen:


Perhaps one of the biggest pieces of upcoming legislation is tort reform, known as SJR8, sponsored by local Senator Missy Irvin and State Representative Bob Ballinger. Tort reform refers to laws passed on a state-by-state basis which place limits or caps on the type or amount of damages that may be awarded in personal injury lawsuits.
Supporters of the measure, including the Arkansas State Chamber of Commerce, maintain under current Arkansas Law limitations or caps need to be placed on damages able to be recovered in lawsuits because excessive damage awards create an oppressive tax on the cost of doing business, which may not attract new businesses looking to relocate.
Senator Irvin was at Monday's event and says along with tort reform Arkansas' workforce is under the microscope.

Listen:


Other legislators attending the event were Senator Scott Flippo and State Representatives Nelda Speaks, Jack Fortner, Ron McNair and Michelle Gray.
WebReadyTM Powered by WireReady® NSI